Winter is upon us and for Blaine and Birch Bay, that means cold weather, warm fires and good food. If you're looking for the latter (or if you're a heat-seeking food missile with an eye for a good cause, like me), there's no better place than Bite of Blaine. Take a "bite" of local food from Blaine and Birch Bay and savor an experience like no other.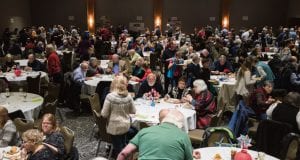 Now in its 19th year, Bite of Blaine is an annual fundraiser dinner and auction hosted by the Blaine Chamber of Commerce. The event brings local restaurants together to raise money for Blaine's Old Fashioned Fourth of July Celebration.
"This pays for our Fourth of July fireworks, says Carroll Solomon, Blaine Chamber secretary. "That's a big deal."
Blaine's Fourth of July celebration draws huge crowds each year with an enormous parade, classic car show, street fair, beer garden and colorful fireworks, which can be seen from all around Drayton Harbor. Sponsoring the event is no small task.
Fortunately, Bite of Blaine is up to the challenge, raising roughly $10,000 last year alone. And it's a huge promotion for local eateries, too. Almost all Blaine and Birch Bay restaurants attend each year, bringing "bites" from their own kitchens.
"We want people to come out and try these restaurants," Solomon says. "We want them to go to those restaurants later and say, 'Hey, I saw you at the Bite. That's why I'm here, I want to have more.'"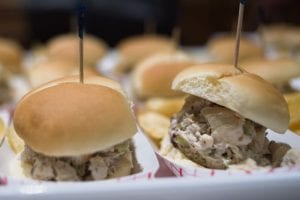 In addition to the culinary fundraiser, the Blaine Chamber hosts its general meeting and gives out awards, like Business of the Year. They also announce their new board of directors.
The "bites" are the main attraction, however. Rawganique, Paso del Norte (a Bite of Blaine regular), and Edaleen Dairy are involved, as are many other exciting options.
And there are a lot more coming. Restaurants from past years include: Chada Thai, Drayton Harbor Oyster Company, Big Al's Diner, Semiahmoo Resort restaurants and even Stafholt Good Samaritan Society – whose food isn't typically available to the public, unless you're visiting (Solomon confirms it's amazing).
Each restaurant brings a good variety. In previous years, they've had steaks from the Black Forest Steak House; desserts from Stafholt; Drayton Harbor Oyster Company oysters; and pizza, lasagna and alfredo from the Pizza Factory. Cost Cutter even participated last year, bringing fresh cookies from their in-house bakery.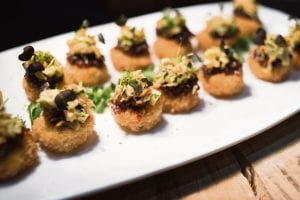 Everyone votes for their top three dishes. Paso won top spot last year, and Drayton Harbor Oyster Company won the previous three years in a row. The first place winner receives a trophy to display in their business.
Food is what makes Bite of Blaine special, and every year Soloman looks forward to trying something new. "I can go to one place and try everything, as long as my stomach holds out; because it's one thing to go around and have a taste out of 15 places," she says. "It's another thing to go back again and get it a second time. Sometimes I don't make it that far!"
The Bite also holds two auctions. During the silent auction, participants bid on products from local businesses, like wine or gift baskets from places like Barnyard Coffee.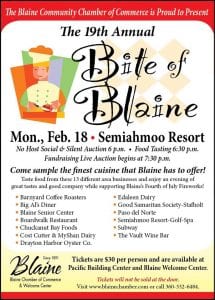 The live auction is for larger items, or even services. "It doesn't necessarily have to be tangible," Solomon says. "It can be an experience, instead of an actual object in your hand."
For example, Turner Photographics usually donates a portrait package. Smuggler's Inn sometimes sets up a winery tour, and Semiahmoo Resort gave away a two-night stay last year. Once, someone who owned a sailboat offered a day out on the water with dinner included.
Don't miss the chance to meet your local restaurants and donate to a fun cause. Bite of Blaine will take place at Semiahmoo Resort on February 18 at 6:00 p.m. Tickets are $30 per person and can be purchased at the Blaine Welcome Center and Pacific Building Center.
Seats fill up fast, so grab yours soon. Make sure you come with an empty stomach, too, because you'll definitely want seconds.
Maybe thirds.
For me? Fourths.
Sponsored