School breaks are a wonderful opportunity to spend more time with your children. But it can also be a challenge to figure out how to keep them occupied while you're at work. One solution? The Bellingham Sportsplex's weekly spring break camps focus on ice skating, soccer and more.
Youth Activities Camp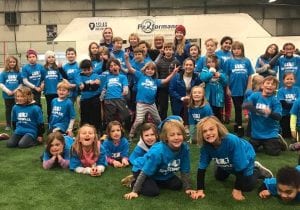 The Sportsplex offers daily activity camps for children ages 7 to 12, during the Bellingham School District's winter, spring and summer breaks and on several "Purple Fridays" (teacher workdays) during the school year. The camps are held Monday through Friday from 8:00 a.m. to 5:30 p.m., and include a range of fun and physically-engaging activities. This year's spring break is April 1 to April 5.
Children enjoy playing soccer, flag football, dodge ball, ice skating and games of tag at these camps. They also get daily swim time, just up the street at the Arne Hanna Aquatic Center. Other possible activities include rollerblading, four square, treasure hunts, chalk art, bubble ball (where children climb inside large inflatable balls), and even a bouncy castle. Outdoor activities are, of course, weather-dependent.
Elsha Grimes, Sportsplex office manager, describes the camps as active, supervised fun with just the right amount of structure.
"By the end of the day, everyone's exhausted," she says. "We keep them moving."
The camps typically see 15 to 30 children per day, but Grimes says more can be accommodated. Parents are welcome to send their children to camp with snacks and home-packed lunches, or purchase lunches for $5 per day. These include an apple, juice, and choice of pizza, soft pretzel or cup of noodles. Parents are also encouraged to send their children to camp with extra clothes for both indoor and outdoor activities, such as jackets, helmets, gloves, long socks and swimming attire.
Camp prices begin at $30 per half-day or $50 for a full day. Attending camp for the entire week costs $185. Sign-ups can be found on the Sportsplex website.
Ice Skating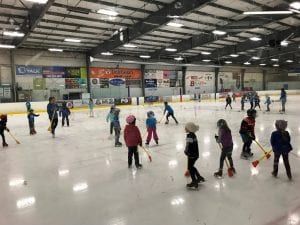 For ice skating enthusiasts, skating camps are offered four times a year, including the spring break days of April 1 to April 4. For children ages 5 to 12, these camps provide a place to learn ice skating basics while also making new friends.
Campers learn proper skating techniques each day from 10:00 a.m. to 1:00 p.m. (it's advisable to drop children off by 9:45 a.m.). They also have plenty of time to play around. Keri Ferguson, Sportsplex skating director, says each day begins with 15 minutes of stretching and learning about muscle groups, followed by a 30-minute on-ice class with instructors.
Following a break, children can skate at their leisure. By 11: 45 a.m., they're off the ice for a 30-minute lunch, before migrating to the indoor soccer field at the Sportsplex. There, children play group games like tag. During good weather, playtime moves outside to local parks. Many of the camp days have fun themes, like pajamas or skate with your stuffed animal.
"We try to have creative activities throughout the week," Ferguson says. "For the kids, it's not just about skating."
Attendance has grown consistently in the past three years, so reserve your place soon; each camp is limited to 50 students. This keeps the number of skaters at no more than 8 to 10 per instructor. Camp sessions are just $95, which covers the cost of skate rentals, as well as a camp t-shirt. Children should bring their own jackets, mittens and helmets. It's best to sign up online, but you can also do so at the Sportsplex front desk. Ferguson recommends signing up two weeks early.
"If children haven't experienced the sport, it's a great introduction; short, sweet, fun," she says.
Soccer
If skating isn't your child's thing, there's always soccer! The Sportsplex's Hammers FC Academy offers soccer skills camps throughout the year. This year's spring break camp, for children ages 5 to 12, runs April 1 to April 4, from 9:00 a.m. to noon each day.
Ivan Colin, Assistant Director for Hammers FC, says all skill levels are welcome. Each day includes fun games focusing on different skills to help children become better soccer players: Monday emphasizes ball mastery, Tuesday teaches dribbling, Wednesday emphasizes passing and shooting the ball, and Thursday focuses on team work.
"We try to emphasize story-based types of games, so it disguises the work required to get better and makes for a more enjoyable experience," says Colin, who's also a mid-fielder with Bellingham United, our local semi-pro indoor soccer team. He also adds that it's incredibly rewarding to see young children develop their skill and passion for the sport.
The four-day camp costs $95, and also includes a t-shirt. No lunches are included, but children are encouraged to bring healthy snacks to enjoy at 10:30 a.m. daily.
More information and registration can be found on the Sportsplex website, or by calling.
Sponsored