Hunger is a major issue in Whatcom County, where 41 percent of households are unable to afford their basic needs. One in five local households regularly use a food bank, and 35 percent of those who benefit are children.

Poverty doesn't have a singular look. Of food bank recipients, 44 percent have at least one working family member, and 52 percent are college-educated. People who rely on food banks are often working families and individuals. They might be a friend, a member of your family, or a neighbor.
Those in need are "families [getting] out of a domestic violence situation, moving away from something, or a grandparent that ends up taking on their grandchildren – something that wasn't in their budget that they didn't imagine happening," says Kim Sutton, community food drive coordinator and executive vice president of Industrial Credit Union. "The food bank is giving them the means to stretch their budget and make it a supportive environment."
This is where Feed the Need comes in. Whatcom County's biggest community food and fund drive gathers much-needed supplies for over a dozen food banks. The nearly 25-year-old event is organized by Industrial Credit Union in partnership with Haggen Food & Pharmacy and Cascade Radio Group.
It began in 1994, when Industrial Credit Union was looking for a way to celebrate International Credit Union Day and give back to the community. They decided to focus on hunger.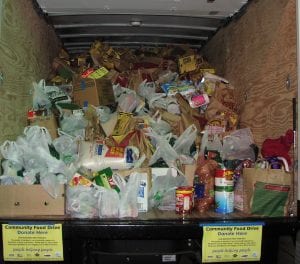 "We found that hunger was one of those issues that really wasn't talked about yet, and we found that there was a great need in Whatcom County," says Sutton. "That's where we started, a desire to help the community."
They began with "crazy" events, Sutton says. They partnered with Diehl Ford to pick up a car in New York City. Two local DJs went cross-country, driving a set number of miles each day based on donations. The goal? To get them home. They even locked DJs in jail one year, and gave them donation-based amenities.
These antics eventually gave way to a more traditional event, to keep the focus on hunger.
"And people in Whatcom County have amazing hearts," Sutton says. "They're a giving community. We just need to bring awareness of the need, and they have always answered."
Today, Feed the Need is a weeklong campaign during the second week of October. It kicks off the last Saturday of September with the Food Truck Round Up, where local food trucks gather to raise money for those in need.
So far, Feed the Need has provided over 15 million meals.
"It collects a lot of money and food for hungry families throughout Whatcom County," says Mike Cohen, executive director of the Bellingham Food Bank. "Each year I feel like it gets better at doing that."
In 2018, the drive brought in $150,000 and 33,000 pounds of food. It also raised awareness about the issue of hunger and food security here at home.
In 2018, the food drive became a fund-focused drive. Food is still appreciated, but money is more powerful because of special discounts food banks receive. With $1, for example, food banks can get $8 to $10 worth of food.
"You take our donation of $150,000 and get $2,000,000 worth of buying power," Sutton says. "That's a lot of food going home to those families."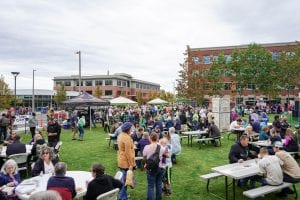 Other businesses and community groups help out with their own mini food drives. Roosevelt Elementary School, for example, leads projects giving back to the community. Every Friday of the drive, kids load their backpacks with donations and march over to Haggen.
"It gives you chills every year," says Sutton. "You just love seeing them. And this year, this kid gave me a box of Hamburger helper, and on it he had taped a pencil and a little note that said 'I hope you enjoy this as much as I do. I don't want you to be hungry.'"
Meridian School Districts and families have consistently made large contributions to Feed the Need since 2005. They organize a drive in each school, and deliver a busload of food.
"We really believe – and I personally believe – that it's about people helping people," Sutton says. "If we can lift others around us, the whole community gets lifted."
Sutton often gets donations from people who once relied on food banks and want to give back.
"Every year we get people that come back and they donate," she says, "and we get lots of hugs and lots of tears and we get a lot of really sincere emotion. People will say, 'I was there. I used the food bank and it helped me through college."
How You Can Help
All Year Long:
During Feed the Need:
These are only some of many ways to help. Learn more at the Bellingham Food Bank website.
Sponsored