Submitted by: Gary's Plumbing & Heating
Hold the phone … Do you know where your water shut-off is? This is a critical question for homeowners to ask themselves. There are different kinds of leaks and water damage that can wreak havoc on a home. Don't let this happen to you!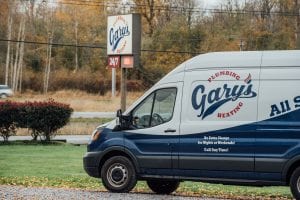 How Would I Know If There's a Leak?
Dripping or rushing of water sounds
Musty smells
A dip in the ceiling or yellow circles forming
High water bills
Peeling paint
"I got a message from a friend asking to show me a photo of his plumbing problem the other day," says Mary Gibb of Gary's Plumbing & Heating. "I kind of laughed to myself, and thought, 'Why is he asking me? I'm not the plumber in the family.' But, when he sent the photo, I knew right away that he had a leak coming through the ceiling by the telltale yellow rings. The young friend is a new homeowner and didn't know what was going on there. Sure enough, we sent one of our techs out and he identified the problem: an old upstairs toilet leaking out of a broken seal."
There are many different kinds of leaks that can happen: a burst pipe or a slow leak, for example. And they both can cost you big time. Fortunately, the team at Gary's Plumbing & Heating is here to help.
Burst Pipes
This can occur because of frozen pipes, the contractor/homeowner drilling through (the team at Gary's has seen this one many times!), or a case where old piping has come loose. Whatever the cause, this is an emergency and you'll need to call Gary's for assistance. You don't need gushing water pouring into your home!
But, before you call, be sure to turn your water off at the shut-off.
ProTip: Install a shut off at a convenient location. One customer, Susan, had one installed under her sink.
"The valve was directly under the sink in the crawl space," she says. "If I needed the water turned off for any reason, I had to crawl under the entire width of my house to do so. I'm physically able to do that now, although it's not something that I like to do – it's creepy in there. (Last time I did it, I put a cap on, full rain gear and tucked my pants in my boots so I wouldn't get any spiders on me!)
"Mostly, my concern was that as I age, I wouldn't be physically able to crawl under my house. I'm so happy I did this and would recommend it to everyone who has a shut-off valve in the crawl space. It gives me peace of mind to know when I have a dog- or house-sitter, any water problems can be handled swiftly. And, most importantly, I won't have to go into the crawl space anymore! Gary's did a great job – it's easy to open and close, and looks nice."
The Slow Leak
This also can cause quite a bit of damage to your home. You may need an expert plumbing technician to identify the source. There have been many cases where there was a water leak from the plumbing system. But it could also be from an unsealed window or roof leak. Every home and plumbing scenario is different, so someone will need to get their eyes on it.
Homeowners' insurance may or may not cover this, depending on neglect and willful ignorance; meaning: if you didn't care properly for your home by observation and upkeep, they aren't going to pay. It behooves all homeowners to keep this in mind and keep their plumbing systems well cared for. The sooner a leak is detected, the less damage to your home, and probably a lower plumbing repair bill, as well.