Maggie Hite has loved sports medicine since high school. She went on to earn her bachelor's degree in athletic training, a minor in health sciences, and a master's in Career and Technical Education with a focus on sports medicine. She thought that she would work in a clinical setting, but instead found her niche as the sports medicine teacher and certified athletic trainer at Sehome High School.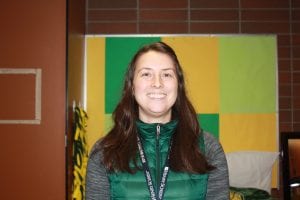 As the certified athletic trainer, Maggie supervises after-school sports and helps injured athletes get back on the field. She evaluates students to find out what's wrong, and decides whether or not they should seek other aid. "I can see injuries, treat them, recognize them, evaluate them, and give them rehab," Maggie explains. "We can give direction on when you need to go in and see a specialist or a medical doctor, or something like that. A huge part of our job is also concussion care, so in the state of Washington we are a recognized health profession that can evaluate, treat and diagnose concussions, which is a big part of why we're hired for the schools."
However, that's only part of her job. During the day, she teaches classes including Sports Medicine 1, Sports Medicine Advanced, and even Medical Terminology. She teaches skills like taping, concussion care and bracing, as well as anatomy, physiology, exercise science, a little bit of kinesiology, nutrition, and legal aspects like HIPAA. She also instructs all of her students in first aid, CPR and AED use so they can become certified through the American Heart Association.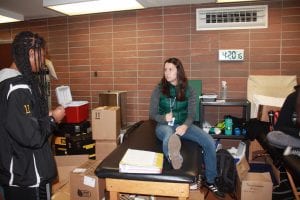 Maggie's students often become more involved through a hands-on after-school practicum. They can earn a 0.5 credit for 90 extracurricular hours, or a 1.0 credit in work-based learning for 180 hours. Right now, about half of her sports medicine students choose to participate, some even going above and beyond the 180 hours. One student logged 360 hours in one year.
"Practicum is where they're after school following me," Maggie says. "They learn the classroom component or the academic side, and hands-on skills with real-world application, which is awesome."
In practicum, students stay in the athletic training room with Maggie and shadow her evaluations as she points out important signs and symptoms of certain injuries. "When an injury happens, I'm the first to evaluate it," she says. "I'm typically the one who tapes and supports them when they're easing back into activity, but once they're on a maintenance program, my students who have become competent in specific taping skills during class can actually tape athletes if they've shown me they're at a mastery proficiency level."
The sports medicine student aides (the name given to student helpers) also assist at games. At football games in particular, the student aides stand with Maggie on the sidelines in case of injury. Typically, they see things like concussions, inversion ankle sprains, bloodwork or fractures. "First aid's a big part and they can definitely help me with that," she says. "Otherwise, [they're] observing – especially when it becomes a more severe injury – and often they'll assist me if there's a fracture. They go get my splinting supplies while I stay with the athlete, so they're kind of my extended arms, which makes us that much more effective to help more people."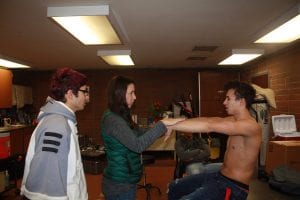 In class, Maggie tries to focus on skills that the students will be most likely to come across in the real world. "I definitely focus more on the stuff that they're going to utilize more in practicum, and things they could actually apply to their daily lives at home," she says. "I've had students tell me they were at a soccer game out at Northwest Fields and they had to be an advocate for a head injury and for telling people how to properly take care of a nosebleed. It's really rewarding when it's friends or family members that they're taking care of or, if they go to a doctor's visit and the medical terminology goes over their parents' heads, but they can actually make sense of it and help translate to their parents. I try to focus on what's going to be something they can actually take away from this and have it be meaningful, that they'll use later on in life."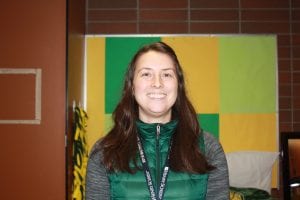 Above all, Maggie tries to make her class and practicum fun and engaging for students so they can see if sports medicine or health sciences is something they're passionate about. "I still keep it pretty lighthearted and try to focus more on stimulating passion so that can carry them through any career," Maggie says. "You have your ups and downs, so if you're passionate about it, that really helps carry you through. My main motivation is trying to get them to have fun with it and be more lighthearted about it. Then, once you get into college, that's where the rigor really sets in."