WhatcomTalk is proud to announce that it's adding SkagitTalk to its stable of sister sites across Western Washington and Oregon. Each Talk property is locally owned and managed under the umbrella of NorthAmericaTalk.
"We're excited to bring a positive community-focused media company to Skagit County," says Dan Jones, NorthAmericaTalk CEO.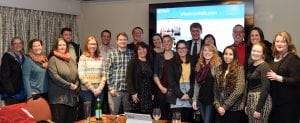 SkagitTalk will focus its team of local writers on all the reasons folks love to live, work and play in Skagit County.
"We look forward to replicating the success of WhatcomTalk, which launched five years ago," says WhatcomTalk founder and CEO Stacee Sledge.
"Our Community Social Network product spans across Washington and Oregon," says Jones, who launched the first Talk platform – Olympia's ThurstonTalk – in 2010. NorthAmericaTalk now has platforms up and down the Washington State I-5 corridor – stretching from Bellingham to Vancouver, Washington – as well as in Oregon.
The move into Skagit County is a direct response to current WhatcomTalk customers hungry for an opportunity to support local stories in Skagit County.
"When your customers want you to expand so they can use your services – like with WhatcomTalk spilling over to Skagit County – it's very exciting," says Jones.
Sledge agrees. "When I launched WhatcomTalk in January of 2014, I hoped to fill the ever-increasing local journalism void in Bellingham and across Whatcom County." She and her team have succeeded: WhatcomTalk was nominated for Small Business of the Year by the Bellingham Regional Chamber of Commerce in 2016 and Sledge is nominated for 2018's Woman of the Year. WhatcomTalk business development manager Kevin Coleman is a finalist for Man of the Year.
"We've well surpassed our initial goals for WhatcomTalk and are excited to continue doing what we do best in Whatcom County while we grow a new team – with equally lofty ambitions – for SkagitTalk," she says.
Sledge will help lead a local team of content creators, photographers, and sales team members in Skagit County to build another exciting community hub where folks can read stories about people, businesses and organizations that are doing good things – stories that otherwise go untold.