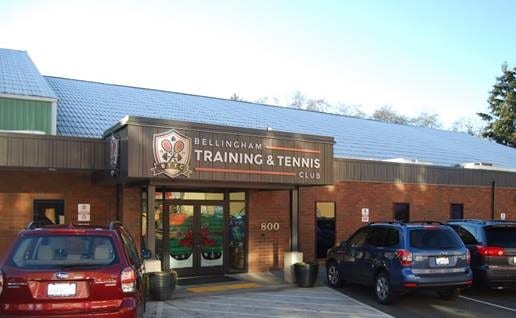 December 6, 2018 – Bellingham, WA – December 16 marks the 45th anniversary for the Bellingham Training and Tennis Club, but it looks like a brand new facility. Over the last five years, owners Doug and Robin Robertson have invested over $2 million for a complete facelift and a 2800-sf addition to the Club that doubled its fitness area.
"Doors opened in 1973 and many parts of the building were just plain old tired. Our Club was a good club, but we wanted it to be great for our members," said Robin Robertson. "People who haven't been here for a few years that see it now can hardly believe it is the same place. They love the modern upgrades and the comfortable, welcoming feel of the new design."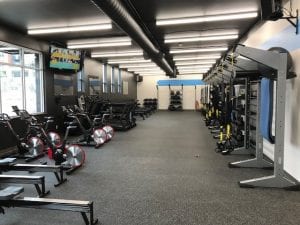 The Robertsons completely refurbished all five of BTTC's tennis courts, massively remodeled the lobby and locker rooms, built the "RIDE" indoor cycling studio, reconstructed the gym with all new equipment and a focus on functional movement, and topped it off last summer with the 2,800-sf addition of the "ZONE" group training area. They also completed an exterior facelift and voluntary road construction. Members love the clean new look, brand new equipment, and say that the sense of community has only grown as they spend more time in the Club than ever.
"We transformed the Club from a mom-and-pop tennis club to a world class training and tennis facility because we want our members and guests to have the best," said Robin Robertson.
After the renovations, the Club hit its 450-member cap on tennis memberships, and has plenty of room to grow with fitness. Even though there is a wait list for tennis memberships, those interested in tennis are encouraged to sign up for BTTC's 8-week clinics which are open to non-members.
Now, the Robertsons are focused on serving the growing fitness demand in Fairhaven and Bellingham.
"We hope to help more people enjoy their fitness experience and prevent injuries so that they can do the things they love in life. Members love our group training classes, that we aren't a big scary gym, and that they get lots of personalized attention from our experienced and certified instructors as they exercise."
With the remodel, the Club also offers special, spa-like touches: fresh flowers in the lobby and locker rooms; essential oil cold towels for after workouts; locker rooms stocked with amenities; free towel service; and the member-favorite, complimentary Tony's coffee and Tazo tea at the coffee bar.
"We like to pamper our members and guests. We know they've worked hard here and want them to know that we appreciate them," Robin Robertson said.
Doug and Robin Robertson bought the club in May 2000. Robin serves as the General Manager, and is a USA Cycling Coach & Personal Trainer with 50,000+ miles of cycling experience who teaches several cycling classes and camps, including Healthy Knees and Cycle Moles Performance Cycling. Doug was a tennis member at the Club long before the Robertsons purchased the business. Doug and Robin are frequently seen in the Club, and both say using the facility alongside their members is their favorite part of BTTC. The Robertsons are offering a special $45 deal to those joining as Fitness Members in December as part of the Club's anniversary celebration.
The Bellingham Training and Tennis Club is located at 800 McKenzie Ave., Bellingham, WA 98225. For more information on membership or programs, visit www.betrainingtennis.com or call 360-733-5050.