The holiday season often brings to mind next year's resolutions. Getting fit regularly tops the list, though we all know it should be part of a health regimen that lasts all year long. But don't discount this important goal – 2019 can be your year, with a little help.
A gym membership helps sustain motivation and keep your goal on-track. Plus, it's a chance to expand community and lend structure to your weekly routine. But where can you go that doesn't make you feel embarrassed or ashamed? Bellingham's City Gym prides itself on being friendly, affordable and welcoming for folks at any fitness level.
It's common to feel a bit apprehensive at first. But City Gym goes out of their way to ensure members feel welcome and included. The environment is comfortable and accessible, as City Gym classes attract a wide variety of ages and abilities. "We welcome everyone that becomes a member here at City Gym," says Yeung Yip, City Gym's new gym manager. "We have seniors who come in for fitness and social purposes, students who take a break from their school life to get a good sweat on, and middle-aged adults who start or end their day with a good workout."
City Gym has a devoted community, which is especially apparent in their fitness dance classes. "Dance with Pattitude" is taught four times a week by instructor Patti Douglas, who uses music and movement to add structure to participants' fitness regimes. Newcomers feel comfortable jumping right in, while the regulars who know it by heart use it as a framework for expressing themselves. For Halloween this year, dancers even donned their costumes and brought some added spirit to the class. Whether it's your first time or you're a seasoned veteran, the class is always positive and accommodates any skill level.
"Patti's dance class has the most tight-knit group," Yeung says. "People come again and again, and they'll stay late chatting and having a great time. A large number of individuals from the class even get together over lunch."
Yeung has been especially impressed with the friendliness of the instructors, like Sherman Burrell. "Sherman makes people feel welcome," Yeung says. "To this day, I don't think I've heard him say hello or goodbye to a member without including their first name."
Sherman teaches one of the gym's most popular fitness classes, Senior Strength, where participants strength train in an accessible way; seated in chairs and using repetitions of lighter, hand-held weights. It's just one of the six different classes City Gym offers seniors or those with limited mobility. The week is full of Tai Chi, Senior Balance, Senior Dance, Senior Stretch, and Flow Motion classes. "I learned from my kinesiology major that our muscle mass decreases by 5 percent every 10 years after the age of 35," says Yeung. "Incorporating fitness helps maintain your overall muscle mass; it can also regulate your mood and keep your blood pumping."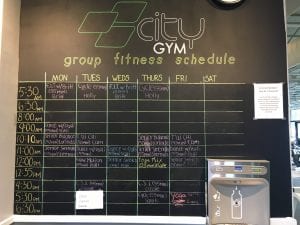 City Gym is located in the business district on the Guide Meridian. They're known for building strong corporate relationships and connecting with other businesses through employee gym memberships. Holiday Inn Express is located just around the corner from City Gym, and has several City Gym memberships for their employees to use. General Manager Terri Sirmans is mindful of the importance of overall health for her employees. "It's just another way to show your employees how you value them," she says. "City Gym isn't like some gyms, which can make you feel uncomfortable; it welcomes all people who want to improve their lives. It's great to see people of all ages working out in one place."
City Gym opens at 5:00 a.m. on weekdays, perfect for early birds looking to incorporate fitness into their morning routines before work. The gym itself is multi-leveled, with large windows that let in ample natural light. Yeung says many members like to do circuit workouts, where they move from station to station around the gym. With the high volume of machines and weights, it's easy to find the ones you want.
Gym memberships can be costly and things like hidden fees and extra charges for aerobics classes add up. But City Gym prides itself on keeping membership packages affordable and transparent. Aside from personal training, there's no additional costs outside base membership – and fitness classes are included. Keep an eye on their Facebook page for schedules and drop-in class opportunities, and make 2019 your year.
Sponsored