Wildlife photographer Scott Melnick loves the Pacific Northwest. He left Amityville, New York in 1991 at the age of 28, inspired by stories from two college friends about the beauty of Washington State. He never went back east. Scott currently resides in Ferndale, Washington, where he and his beautiful Malamutes, Loki and Sierra, are often spotted around town.

Scott's father was a journalist and writer. His father also loved music and shared it with his son early on. When Scott was five-years-old, his parents took him to hear Richie Havens. Scott got to meet Richie backstage and remembers shaking his hand – a vivid memory he treasures to this day. Over the years, he found ways to visit Richie, and the musician always remembered him.
Scott has been known to sneak his cameras into music venues. He recalls being around Ozzy Osbourne after his Black Sabbath days, and with David Gilmour at the filming of the Pink Floyd concert documentary, "Delicate Sound of Thunder."
Scott attended Marist College in New York's Hudson Valley, earning a degree in communications and video production. His other interests included wildlife cinematography and acting.
A freak accident turned Scott's life into what he describes as a series of unfortunate events. At the age of 22, Scott took a temp job helping to move a high volume of paper records. He was severely injured when an entire section of warehouse shelving, housing about 15,000 pounds of photos, fell and crushed him. A bolt went through his face.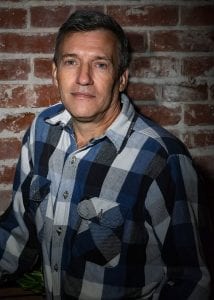 His recovery took more than two years, and he still has neurological issues as a result. Nerve damage to his right arm and hand causes that arm to seize up on him. He sometimes has violent seizures in his sleep that last for hours, often breaking ribs or tearing tendons. Scott once had a seizure on a plane to Alaska. "Nothing like falling asleep in one moment and waking up in a hospital somewhere," he said.
Doctors think his kidneys may not survive another seizure.
But even with these immense challenges, Scott leads a very productive life, and still has a great outlook and sense of humor. Doctors also thought he'd never walk again after the accident, but he persevered.  He even went on to earn a black belt in Tae Kwon Do. He's not one to be kept down.
Scott is the caretaker for his 93-year-old mom, maintains his property, and takes as many photographs as possible. This is where his artistic talents really shine.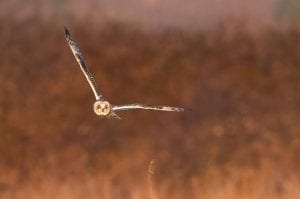 Scott visits areas where he can be close to wildlife and capture their beauty. Sometimes, it's been a little too close. Once, when he was in an animal rescue park, a wolf jumped on him and licked his face. Another time, he was trapped in an outhouse waiting until the bear outside left. In 2017 Scott was wading in the Brooks River in Alaska, watching a bear catching fish about 60 yards away. At one point, the bear began to run straight at him. The thought "death by bear" ran through his mind. It was an intense moment.
In the end, the got about 10 feet away and then decided he had something else to do. In spite of that scary moment, Scott's photos of the very same bear (now known as "the groove bear") are some of his favorites.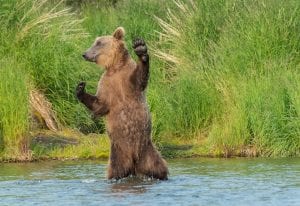 Overall, Scott tries to avoid such close calls. "As a wildlife photographer, I don't ever try to get too close or push animals to get a picture, or ever put myself or them in danger," he commented. "I'm actually known for giving photographers a hard time if I see them doing that."
A self-employed photographer, Scott also specializes in sports and music. He has photographed the kayaking leg of Bellingham's annual Ski to Sea event for the last three years, and hopes to launch a studio for commercial and pet photography work.  His property is the perfect setting for photographing animals chasing a ball or playing.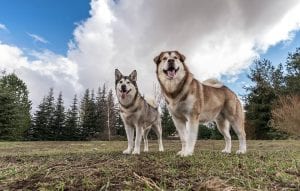 Scott also enjoys photographing and helping local bands with their promotional efforts. He often does this as gesture of good will because he believes in the local music movement in Bellingham. "Sometimes new talent can't afford to self –promote," he explained.
You can view his work on Facebook. To book an appointment call him at 360-224-4590.