Bob Kramer doesn't understand string theory and neither do I. Our loose grasp on physics is something we have in common. In fact, I found out there's a lot we have in common, and a few things we don't.
Bob uses his hands (and some tools) to craft arguably the world's best kitchen knives. Chefs from Thomas Keller to Anthony Bourdain have sworn by Bob's knives and his blades have become the gold standard in the culinary world. Formed from carbon steel, Bob uses a modern Damascus technique to create their pattern.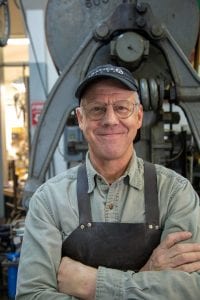 As for me? I use my hands to type words that will hopefully be woven into a cohesive new take on a story that's been told many times before.
You see, Bob's a bit of a knife celebrity. Didn't know those exist? It's okay, if you don't tread in the culinary or metallurgy world, you may not.
Bob's become a hot topic in both culinary and metallurgy magazines since obtaining his master bladesmith certification in 1997. He's one of only 120 American master bladesmiths. This prestige has garnered him feature stories and profile pieces in periodicals such as Saveur, The New Yorker, Bon Appetit, Esquire, Cook's Illustrated and more.
So how do you write a story about someone whose life journey and accomplishments have been reiterated by many of the world's most popular magazines?
That's the question I sought to answer over the course of an hour-long meeting at Bob's shop, Kramer Knives, located in the Sunnyland neighborhood of Bellingham.
And the easiest way to get an answer? Ask.
I tell Bob that out of all my interview subjects, he has the most published stories by far. I know a great deal about him via third-party sources before I even meet him.
"You're the writer; you're the artist," Bob says. "What kind of different things do you want to know? How do you want to craft your story?"
Good point.
Well, I want to craft it the same way he crafts his knives: unique, one-of-a-kind, and with precision and artistic integrity.
I ask why he still does it; continue to get up every day, go into the shop, and work on knives that have already been dubbed "best in the world," "the perfect kitchen knives" or "the best carbon-steel knives."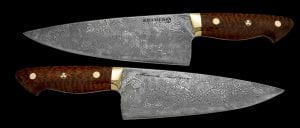 Is he chasing perfection? Does he even believe in perfection?
"There are many reasons why I still do it," he says. "But it's because I like it. It's enjoyable, it's challenging and there are so many problems I haven't solved yet. I'm still learning."
Bob Kramer is still learning. Master bladesmiths are human too.
The Bellingham iteration of Kramer Knives is a completely new set-up. Bob is working in close collaboration with fellow master bladesmith Tom Ferry. Bob has never worked with a partner before. It's caused him to let his guard down a bit and relinquish some of his control over every aspect of each individual knife.
Tom has over 25 years of experience, and a much different approach to the craft than Bob. The collaboration provides new creative fuel for each.
"It's such a rare and rich opportunity right now," Bob says. "Generally our profession is a solo craft; everyone wants to blaze their own trail. But now we're blending our skill sets on a daily basis. I don't think it's ever been done before."
Sometimes Bob and Tom will collaborate from the inception of a knife idea. "We're just having a blast," Bob says. "What we're doing is so much fun."
Plus, there's Jessica Peterson, an ambitious 20-something with a degree in Industrial Design who manages the office and brings a new perspective to Bob and Tom's work. Bob says she's part of the collaboration as well, and her input brings its own interesting influence to their craft.
"People have pretty big egos in lots of crafts," Bob says. "If you're self-reliant that you can support yourself on something you built with your own hands, there's a lot of ego that goes with that. You want a lot of control, and it can make collaboration difficult, but with Tom and Jessica, we're a team here. This is something new that Kramer Knives hasn't had before."
The teamwork and collaborative aspects extend beyond their core team. Each knife in the hand of a chef influences and feeds a slew of individuals. Each creates moments of happiness.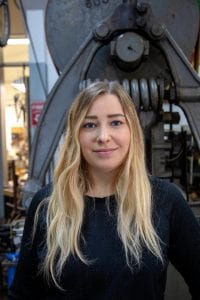 Bob's craft has done much more than simply provide chefs with a properly sharpened blade to cut a 50-pound bag of leeks. It's given them, and all those they serve, a direct connection to Bob. Everything is linked. Is that what makes Bob happy?
"Oh yeah, I've thought about it," Bob says. "It does make me happy. It's an awesome formula."
Before knives, Bob created dishes of his own. He worked extensively as a chef in Atlanta and then at The Four Seasons in Seattle. While in the culinary industry, he was bothered by one major issue: he couldn't figure out how to keep his knives sharp. This led him to the knife sharpening profession, which is where it all began.
Bob likes to think of his knives as batteries that he focuses and concentrates his energy into; energy which can remain for 100 years. He hopes these knives can help whoever picks them up accomplish their goals in the kitchen.
Sometimes Bob's influence extends beyond the kitchen.
Recently a woman reached out to Bob hoping he would craft her a special knife. She was about to propose to her boyfriend and wanted to do it with one of Bob's creations. Her boyfriend's passion was cooking, and a Kramer knife would be the perfect way to pop the question.
Bob's schedule was full at the time, but he said if she was patient, he would get it to her. Eventually, the knife was made and inscribed with "Matt, will you marry me?"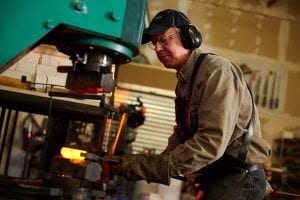 It worked. The woman's boyfriend said yes and she sent Bob both a wedding invitation and photos from the occasion. Although he wasn't able to attend the wedding, she still wanted him to know how much he and his work were part of it.
Bob smiles as he tells the story, then lets me leaf through the pictures. Clearly, his craft is anything but solo. It's an extension of Bob Kramer the man. His quest for learning, understanding and perfection led him to something much greater: connection. Every knife Bob creates will live on, connected with happy moments and sad times, joyful memories and raucous occasions.
Bob's knives will outlive Bob and the rest of us. They'll be handed down through the generations, playing catalyst to a myriad of different creations from chefs, food lovers, sons, daughters, mothers, fathers and lovers alike.
As our conversation closes, Bob and I agree on a few things. Neither of us knows how the universe started, we don't think it's faux pas to sous vide your Thanksgiving turkey (in fact, we're both advocates), it isn't possible to achieve true perfection, learning should be continual and is integral to your well-being, college isn't the only path to a career, and Bob's knives mean a whole lot to a ton of people all around the world.