The holidays are always better with a little country charm at Bellewood Acres. The smell of wood smoke drifts on the cooling air amid the sweet aroma of warm pie. It's the perfect place to relish the holiday season. Savor the scents of cinnamon and clove, enjoy the comforting feel of gingham and celebrate the camaraderie of community. Pick up a locally grown Christmas tree from Lynden and indulge in a few signature "farm to glass" liqueurs. There's something for everyone to enjoy and enhance the holiday spirit. (Pun intended.)
December promises an abundance of activities to delight children and enchant adults. On December 8-9, 15-16 and 22-23, local schools and choirs will entertain as visitors walk the orchard, visit with Santa, take photos and sip toddies. On December 1 and 2, there will be s'mores packets, a crackling fire and free cookie decorating. For the grown-ups, BelleWood Acres will spotlight their Reserve Brandy, aged for two whole years in oak barrels.
BelleWood's award-winning apple brandy can be enjoyed as is, or as "Bruce," a brandy and juice blend in which juice is added to the barrel at the two-year mark, bringing down the proof and adding extra sweetness.
Eric Abel, president and co-owner of BelleWood Acres, says, "Our pumpkin spice liqueur is popular this time of year." It's made from BelleWood's own pumpkins and it doesn't get any fresher than that. "We have tastings in our tasting room." Here patrons are invited to sample all BelleWood's spirits and get a sense for what the distillery has to offer.
For the holiday season, they'll also serve pumpkin spice liqueur, hot toddies and mulled cider in the café. "We're in a unique position because we actually grow all of the ingredients that go into the bottle," says Abel.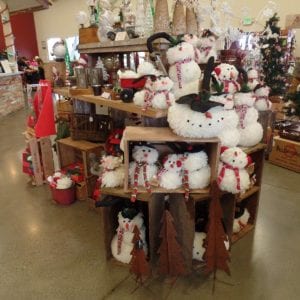 Whatever you do, don't miss BelleWood Acres' fresh pie. It's always hot, delicious and fills the air with the scent of fruit, vanilla and sugar. They have a long list of options for dining in by-the-slice or whole-pie take-out. With just two days' notice, holiday pies can also be ordered for pickup. They'll be freshly baked and ready before 3:00 p.m. on December 24. Or you can grab a frozen pie and bake it at home.
And what are the holidays without the big man himself? Abel assures visitors that BelleWood Acres is graced by none other than "the real Santa." Families can snap photos of their own for free; much better than expensive photo packages.
Beginning the day after Thanksgiving, you can snag a locally grown Christmas tree at BelleWood Acres. They also have wreaths from Growing Washington out of Everson.
On the main three weekends (dates mentioned above), families can climb aboard a horse-drawn sleigh-bell trolley for an orchard and farm ride, featuring a caroling guitarist from 1:00 – 4:00 p.m. Or, visitors are invited to stroll the orchard and conservation area, which runs through the woods along Ten-Mile Creek.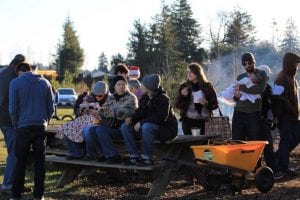 If you're looking for gifts, as most of us are in December, you can find plenty of local goodies in the BelleWood Acres store. The shop features edible local gifts such as cheese, Woods coffee, BelleWood's Honeycrisp apples, jams, jellies and other treats. Shoppers can also peruse gifts made by Northwest artisans. Combine all of these into one of BelleWood's decorative baskets to create your own gift basket. BelleWood staff will even help put it together and handle shipping, if needed.
Hungry after walking the orchard, shopping and meeting Santa? The BelleWood Café serves breakfast, lunch and dinner daily. In December, they're planning a holiday menu which is – as of this writing – top secret. But Abel says old favorites like the pulled pork sandwich are amazing. "And they're always on our menu," he adds.
BelleWood Acres is the place to celebrate the holidays. Children play corn hole or burn off some energy in the play area while parents chat by the outdoor fire. Sleigh bells ring as families ride the trolley. The farm comes to life with laughter, lights, holiday scents and a sweet softness that will warm the heart of even the most hardcore scrooge. BelleWood Acres is a phenomenally fun place to gather and get that extra dose of holiday magic.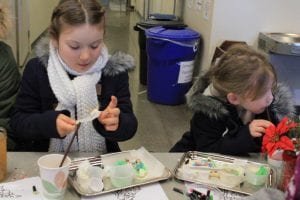 During the holidays, BelleWood will be open from 8:00 – 5:00 p.m. daily, and until 7:00 p.m. on Fridays. They'll close at 3:00 p.m. on December 24 and December 31. They're closed on December 25 and January 1.
Don't Miss These Special BelleWood Events:
November 23-25
12:00 p.m.– 5:00 p.m.
The season commences with fresh-cut Christmas trees and wreaths; Noble and Douglas Fir come in many heights. A roaring bonfire is available for toasting s'mores, weather permitting. Enjoy fresh mulled cider and "Farm to Glass" Pumpkin Spice Liqueur. You can sip and shop to your heart's content in BelleWood's market, featuring local country gifts.
December 1-2
12:00 p.m.– 5:00 p.m.
Sales of Christmas trees and wreaths continue, as well as s'mores at the bonfire. The distillery will spotlight BelleWood's Reserve Brandy. Children can decorate their own Christmas cookies while adults create their own gift baskets filled with local goodies.
December 8, 9, 15, 16, 22 and 23
12:00 p.m. – 5:00 p.m.
Santa is in the house! This is a great family photo opportunity and there's no better country backdrop. Relax on an orchard ride aboard the Horsedrawn Sleighbell Trolley from 1:00 – 4:00 p.m. It's a delight for the whole family. Come for breakfast, lunch or dinner and enjoy their special Christmas menu. Live music and carolers too!