The discovery of terpenes is changing the cannabis industry. These highly aromatic compounds of organic material dictate the type of high you receive from marijuana strains. The more we understand terpenes, the more we can cater the high to our liking, and the easier it is to know which types of cannabis are best for certain ailments.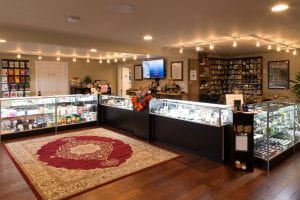 Former Smoking Crow General Manager Kayla Hall introduced the idea of tracking cannabis products' terpene profiles before opening the store last December. Hall is now the General Manager of Smoking Crow's sister store, Organic Liberty (OLiberty), in Southern California. OLiberty will function the same way, putting terpene profiles at the forefront of their products.
"I was tired and frustrated that our [cannabis] market is set up the way it is," Hall says. "[The industry] doesn't look at the whole chemistry of the plant, and it causes people to shop based on THC percentages, not terpene profiles."
In order to start putting terpene profiles on Smoking Crow's products, Kayla needed to not only partner with the right vendors, but find a platform that she and her vendors could use together to present this information to consumers. That's where Tom Heller of Cannabinder came in.
Through a partnership with Cannabinder.com, Smoking Crow can educate customers on the various terpene profiles found in different strains. Cannabinder's "Cannastamp" is a useful packaging label that displays the terpene, CBD and THC profiles of each strain.
This is a big deal. Smoking Crow will be the first cannabis retail establishment in Washington State to offer consistent terpene information to the public.
But the full message with Cannabinder is greater than that. When you make an account on Cannabinder.com, you can add strains you enjoy to your "binder" in the mobile application. Strains with the Cannastamp have their terpene profile tracked and are rated based on function; for example, if the strain is best for relaxing, working, athletic events and so on.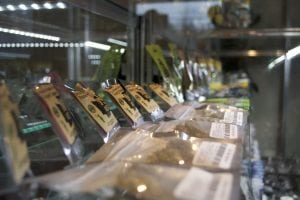 This revolutionizes the decision-making process for cannabis consumers. Say you found a strain you liked at a dispensary and now want one with a similar terpene profile; you can utilize the functionality of Cannabinder to find a strain and dispensary that match.
Smoking Crow has been helping out the folks at Cannabinder with their soft launch by providing them with an initial first wave of product terpene data. Kayla and Tom worked together for months to get the analytics and testing results properly recorded so terpene profiles could be displayed on Smoking Crow's products.
"We get to go out and empower consumers with their purchases," Heller says. "Any plant can produce a beautiful product even if it isn't exactly what it produced the last time, and now consumers can realize that."
Proper terpene education is important says Dominic Ippolito, current General Manager at Smoking Crow Cannabis Dispensary. There are over 200 different varieties of terpenes found in cannabis strains. Each has its own unique characteristics and is beneficial for different reasons.
"We want people to learn about this wonderfully complex plant," Hall says. "At first, I was nervous that people wouldn't be receptive to our approach, but I hear from Dominic that they're really jazzed about it so far."
Ippolito and the staff at Smoking Crow educate their customers on terpenes. They want to emphasize their healing power and provide information so customers can purchase a product they truly feel comfortable with.
"Terpenes are very new to the discussion and our shop is focused on bringing to light their useful properties," Ippolito says. "We've been a supporter since day one. We make it a priority to pick up companies who emphasize research in terpenes, and we want to work with companies that document their strains' terpene profiles."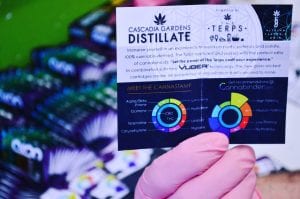 At Smoking Crow, the smell of terpene essential oils fills the air the moment you walk in the door. The citrusy scent of Limonene is pleasant, and it's known to alleviate stress and elevate mood.
In fact, Smoking Crow's entire atmosphere is good for mood elevation. Built inside a house, it's cozy, warm and welcoming. In addition to their plethora of cannabis products, there's a nook with armchairs where customers can hang out, play board games or chess, strum the community guitar, or just relax. The Smoking Crow crew does a good job of putting both the first-time and long-time cannabis user at ease. The shop is very inviting – an ideal place for deeper informational exploration.
"By knowing exactly what our products' terpene profiles are, we can utilize the different terpenes in cannabis to help people with different kinds of ailments and problems," Ippolito says.
Ippolito's current favorite is the Limonene that permeates the air. It's often found in citrus-dominant strains such as Super Lemon Haze, Durban Poison and Jack Herer.
In addition to Limonene, other commonly found terpenes in cannabis include Myrcene, Linalool, Pinene and Caryophyllene. Like Limonene, each has its own characteristics. Myrcene is used to help relieve muscle tension and pain. Linalool is used to treat anxiety and sleeplessness. Pinene is used as an anti-inflammatory and Caryophyllene may help those experiencing arthritis.
Smoking Crow asks all companies they source product from to test for terpenes; Ippolito then sends their analytics to Cannabinder (just as Hall once did).
The goal is to get the farms themselves to work with Cannabinder, Ippolito says. In the future, he believes this is where the industry is headed; farms will send analytics into Cannabinder and then establishments like Smoking Crow will get the packaging with the Cannastamp already on it.
"This is a brand new concept," Ippolito says. "As an industry, this is where we're heading. We have to evolve beyond the constraints of just labeling strains indica or sativa."
Sponsored