A lot has changed in the sign industry over the years, but Signs Plus has continued to grow and stay current through it all. This local business grew from the ground up and now takes on extensive projects such as the signage at Paine Field's new airline passenger terminal in Everett.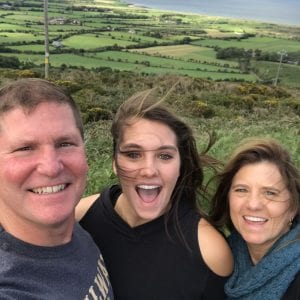 Another memorable project was reworking the Bellingham Herald sign. "Re-doing the Bellingham Herald sign was a really fun project to work on," says Signs Plus President Jim Sutterfield. "We had been maintaining it for years, but around 2015, the sign was in such poor shape, we suggested a rework would be the most cost-efficient route to go."
Sutterfield says that if they hadn't reworked it, parts of the old sign could have blown away in one of Bellingham's many windstorms.
In order to complete the job, the Signs Plus team used the old sign as a model, constructing a new one exactly like it, piece by piece.
There were a couple major differences – most importantly, the old sign was made of steel, which had rusted. For the new version, Signs Plus used aluminum. And, instead of illuminating it with neon, the new sign was lit with RGB LED lighting.
This marks a major shift in the industry. In the past, fluorescent and neon were the main two lighting sources in outdoor signage, both popular until about five years ago, according to Sutterfield.
Now, many businesses are switching to LED illuminated outdoor signs for their storefronts. The RGB LED lighting systems provide increased capability and functionality, and allow owners to change the tint and color to their liking. Signs Plus has a wealth of experience in the creation and installation of RGB LED signage, neon signage and more.
"Since the price of LEDs has come down, it's now more cost efficient to use LED when lighting our signs," Sutterfield says.
RGB LED lighting's increased functionality is another reason demand for LED lighting has increased. Using computer-programmed software and a Wi-Fi DMX (digital multiplex) controller, Sutterfield's team can pre-program the signs so individuals can easily control the look.
Satori in downtown Bellingham has an RGB LED sign, which the Signs Plus team connected to a cell phone app, allowing the tint and color to be changed via mobile phone.
With innovative new services like these, it's no wonder Signs Plus was named as a finalist for best large business of the year. Their accomplishment will be celebrated at the Annual Awards Dinner hosted by the Bellingham Regional Chamber of Commerce and presented by First Federal on December 6. The final winner will be named during the event.
"We're really excited and humbled to be up for the award of Large Business of the Year," Sutterfield says.
Signs Plus now employs 32 people. They've come a long way from the sole business venture Jim started with his wife, Jamie, in 1992.
And there's more to come. Sutterfield and his team are thrilled to be working on many new projects, including the Northern Quest Casino project in Spokane. Signs Plus has done all the design work for the casino's signage, making it one of the largest projects they've taken on.
All signage manufacturing is drafted and completed in Bellingham. Afterward, Signs Plus sends an installation crew, tools and signs to the desired location. These installation crews travel all over Washington State, and even further flung, to install Signs Plus signs.
Another upcoming project? The team will take on all sign and design work for the Granary Building, set to open on the Bellingham waterfront near Waypoint Park in downtown Bellingham.
Signs Plus
766 Marine Drive
Bellingham