More than five million people in the United States currently have Alzheimer's disease, an affliction which destroys lives and negatively impacts families daily. Although there's currently no cure, one local organization offers hope and support.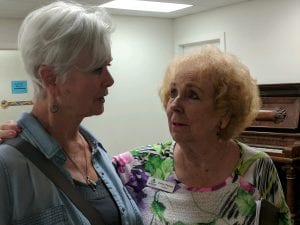 The Alzheimer Society of Washington, founded in Bellingham more than three decades ago, offers support groups for both those suffering from Alzheimer's and those who care for them. The nonprofit started with a single caregiver support group over a decade ago; they now have 25 support groups each month.
Caretakers who've participated in their free groups benefit greatly. "It's made a huge difference, not only in how they understand the progression of the disease, but how they can learn what's necessary to become the best caregiver," says Jan Higman, executive director of the Alzheimer Society.
These support groups allow participants to discuss their caretaking situations and request help. Several trained facilitators lead each group, providing knowledge and tips based on group commonalities. Most support groups are about 15 to 20 people in size, comprised of both long-time attendees and those new to the process. Some attendees have already lost the person they cared for, but continue attending to help others. Tight bonds often form between caregivers, leading to lifelong friendships and social activities outside group meetings.
"It's such a terrible disease," Higman says of dementia. "That's why these support groups are so important to these families, and why they say they wouldn't be able to get through it without the support."
More Than Memory Loss
Dementia is caused by the death of nerve cells in the brain, leading to memory loss and functional impairment. It generally affects those over age 65, but more than 500,000 people below that age have an "early onset" form of the disease. And although Alzheimer's is dementia's most common form, it's not the only one. From vascular dementia— which Higman's grandmother had – to Lewy body dementia, the disease affects each person differently and progresses at different rates.
For instance, Higman notes that some people have significant behavioral changes – including angry or even violent outbursts – while others become increasingly docile. Those with Lewy body dementia often hallucinate early in the progression of the disease, while those with Alzheimer's do so at a lesser rate and often much later in the progression of the disease. As dementia progresses, communication becomes difficult and words are increasingly hard to find. Mobility issues can begin to set in. In the later stages of the disease, the brain has atrophied to resemble a piece of dried coral. Talking, walking, eating and bathroom functions all require help, and many people fail to recognize their loved ones or even themselves.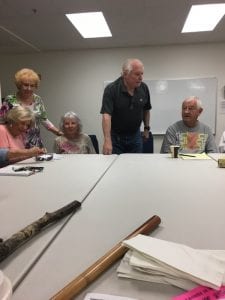 This information is quite frightening, and it's one of many reasons why the Alzheimer Society offers weekly educational support groups for those living with dementia. The groups provide meaningful socialization that's extremely important to help slow the progression of the disease.
They offer many options. "Staying Connected" is a three-hour class focused on socialization, physical activities and cognitive activities for those with early-stage memory loss.  Another two-hour group, "Round Table," allows participants the chance to have deep, meaningful discussions while focusing on cognitive exercises. A third option, "Tuesday Talk," focuses on light-hearted social interaction for those in the middle stages of dementia. In addition, the Alzheimer Society offers the "Care Partner" support group, allowing both caregiver and the person with memory loss to collaborate on emotional support and coping strategies.
"It's so good to be in a situation where they can talk to other people who are going through the same thing they're going through," Higman says.
Because the organization is only so big, they also provide community facilitator training. This gives those in other communities (like assisted living facilities or church groups) skills to lead their own groups with Alzheimer Society support.
The Alzheimer Society is currently working with ADx Healthcare on CognaFyt, a six-week program aimed at 30- to 50-year-olds. Each session will focus on different healthy lifestyle strategies for memory loss prevention, including diet, stress reduction and good sleep habits.
The majority of all support groups take place in Whatcom County, but the nonprofit recently began two support groups in Skagit County. They eventually plan to expand to Island County, but for now will focus on meeting demand locally.
"We're hoping we can start another three to five support groups within the next year," Higman says.
An Exciting New Development
Starting January 1, the Alzheimer Society will begin doing business as Dementia Support Northwest. "This change is being made so we can be more inclusive to all people living with dementia and highlight the core of what we do: support," Higman says.
Support This Wonderful Cause at These Events:
January 12 – Don't miss the Flapjack Fundraiser, hosted by the Harborview Lions Club, at Applebee's. Tickets are $10 and 50 percent of that is a direct donation to the Alzheimer Society of Washington.
March 9 – The 8th annual An Affair to Remember Masquerade Gala features a silent and live auction at the Bellingham Country Club.
For more information – including support group times, locations and sign-ups – please visit their website.
Sponsored