Over the years, Phillips 66 Ferndale Refinery and their employees have done a lot to help Whatcom County. Frequent donors to community-wide projects, Phillips 66 has a culture of philanthropy. From building the Phillips 66 Soccer Park to investing in the future of our community with the Boys & Girls Clubs of Whatcom County, Phillips 66 strives to improve the place their employees call home. Recently, Phillips 66 made three separate donations to organizations that help keep all Whatcom County residents safe: Whatcom Emergency Management and the Sandy Point Fire Department.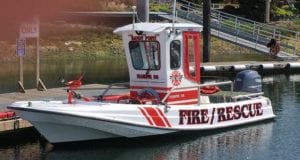 "Engaging with our community allows us to create a lasting and positive impact," says Brandi Civico, community relations & administrative associate for Phillips 66. "Our community service and volunteer activities provide an opportunity for us to work more closely with our community and form important partnerships."
Specifically, these financial contributions that support emergency preparedness help ensure those resources are available to respond and provide the necessary assistance to our community, should an emergency situation arise. "We're proud to sponsor such programs," Civico says.
Phillips 66 made two separate $50,000 donations to the Division of Whatcom County Emergency Management, and also gave two separate $10,000 donations to the Sandy Point Fire Department, or Whatcom Fire District 17. This money will help increase the effectiveness of safety measures put in place by the two organizations.
"Phillips 66 is a great local partner," says John Gargett, deputy director of Whatcom County Sheriff's Office Division of Emergency Management. "They always help out in such a beneficial and substantial way. Their donations helped us with our Tsunami Early Warning Alert System and TacSaT Communications Truck."
Whatcom Emergency Management's Tsunami Early Warning Alert System is an integral part of keeping Whatcom County safe from potential tsunamis. The main piece of warning equipment is an AHAB siren, which is installed in Birch Bay. AHAB stands for All Hazard Alert Broadcast Siren, and Gargett says it isn't just for tsunamis.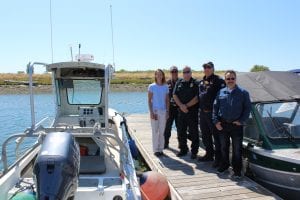 In fact, the AHAB siren can help keep Whatcom County citizens safe from a variety of different scenarios. For example, if there were an event that required notification of the public, Gargett could use the siren for notification, just as he would during a tsunami.
The second donation Phillips 66 gave to Gargett and his team was for their TacSaT communications truck, which augments their mobile response capability for any incident in Whatcom County.
When units arrive on scene, the TacSaT truck can set up a communications center at the incident. This includes a Wi-Fi network and radio that run off satellite and telephones. It enables them to send video, data and voice from the scene of the incident back to the emergency operations center in Bellingham.
For example, if an earthquake interrupted Whatcom County internet service, Gargett and his team could use the satellite to have full communications in the field.
"We've exercised it quite a bit," Gargett says, "because we need to know its effectiveness in different areas. We need to run it out and test it, but hopefully we never have to use it. We just had a volcano exercise and had the van out in Deming and Newhalem."
Water areas around Whatcom County also need to be kept safe, and that's exactly what Sandy Point Fire Department Chief Jim Petrie and his team of firefighters do. It's their job to respond to distress calls that happen out in Whatcom County's bays.
Phillips 66 donated a 21-foot Boston whaler to get the job done for Whatcom Fire District 17. They also helped update the watercraft.
In the past, there were several instances where a resident's boat caught fire in the waters near Sandy Point. Petrie's team was dispatched, but helpless at the scene; they could only stand and wait for the Coast Guard.
Petrie is grateful that Phillips 66 donated the boat, and then the money to retrofit it and add a fire pump. He says during the summer months the department's boat is now in the water and ready to go.
"It couldn't have worked out better," Petrie says. "We responded to six calls during the summer months this year."
One of those rescue calls came from a kayaker who got caught in a tide and ended up stuck in the bay late at night. Petrie and his team got coordinates from his cell phone, located him, rescued him and brought him aboard the boat.
Now, it isn't just calls on the water the department can respond to, it's also much easier for them to respond to calls from Lummi Island. The team boated over to put out a brush fire off of Lummi Island this past summer.
Phillips 66 Ferndale Refinery's donations to these two organizations help keep the Whatcom County community safe. Our local first responders are grateful for their financial support. And because safety is a priority for Phillips 66, their giving spirit will continue into the future.
Sponsored