It's 1:00 a.m. and there's a howling wind outside your window; a tree just fell on the power pole and a transformer is on fire. But don't fear, Puget Sound Energy (PSE) will send Jon Backman to help. He's one of six first responders who are on-call 24 hours a day, ready to save the day when your power goes out.
I went to the PSE building on Kentucky Street to meet Matt McGraw, the Electric First Response Supervisor. After being introduced to Backman, the serviceman I'd be riding with, they showed me a secret place called the storm room.
A large table stood in the center of the space, with plexiglass walls covering detailed, eight-foot maps of Whatcom County surrounding the room on all sides. The images show every single cable line and  power pole around the county. "This is where the action happens," Backman says.
In the event of a major storm, this room is abuzz with commotion. There are people, food and coffee everywhere. McGraw sometimes doesn't leave for days. During a storm, the plexiglass is covered with rainbows of dry erase markers, arrows, notes and markings, as the team works together into the wee hours of the morning. Phones ring off the hook and walkie-talkies blare with reports from the service men and women working all night in the field to turn the power back on across the county.
It's silent today, so Backman and I jump into his bucket truck and hit the road. The bucket truck is huge; I'm surprised when he says he takes it home at night. He says it can be a hindrance to find a home where you can park it. Neighbors don't always like a giant truck parked next door or driving up and down the street in the middle of the night, as they can be pretty noisy, but it allows them to provide the quickest response to customers.
PSE Servicemen are first responders, but unlike most first responders they are never fully off of work. Backman is on-call 24 hours a day, seven days a week. He has the ability to turn down work when the call comes in, but he usually doesn't. "You just get used to working tired," he says. "We get woken up constantly."
Despite the beautiful clear weather we've had the past week, he's been called out of bed the past four nights in a row. After a night on the job, he still works 7:00 a.m. – 3:00 p.m., Monday through Friday.
"We have power outages every single day," he says. "It could be something as small as one person's power is out because a squirrel climbed onto their transformer or it could be 2,000 people because a car hit a pole."
We travel to a beautiful old Victorian home next to Elizabeth Park for Backman's next job. The homeowner called for a tree in the back alley to be trimmed because it was rubbing on the power line in the wind. Backman got geared up in his safety harness, hooked himself up in the bucket and motored the giant arm up above the detached garage. He located the wires and got to work trimming the offending limbs.
It's all part of a lineman's life. "A lot of the time we're going to jobs that are an emergency," Backman says. "We might have live wires on the ground or a tree that's burning because it's laying on the lines."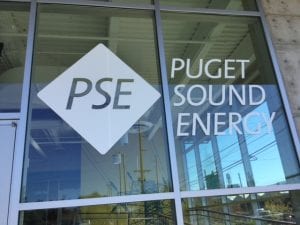 "We're thinking of our own safety, but we're also thinking of the public," he continues. "Because I could go to the source of an outage and turn the power right back on again, but if I turn the power on without finding why it's out, there might be some guy in his yard with a chainsaw cutting the tree that fell on the wire and when I turn it on, he's going to die. We have the responsibility to make sure everything is clear and safe before we re-energize."
It's a lot of responsibility to be sure. Backman and his colleagues make the right decisions so no one gets hurt and nothing gets damaged. "You don't want to make a situation worse because you're hurrying," he says. "Safety is one of the biggest factors."
Last year, the Sumas area had a huge ice storm that left hundreds of people without power. "We had wires that are normally the diameter of your pen that were two inches in diameter because of the ice build-up," Backman recalls.
A row of poles is engineered and designed to hold up 100 or 200 feet of wire, but when all of that ice builds up, it becomes much heavier. When you then have hundreds of feet of ice-covered wire, it weighs thousands of pounds. Poles can fall down one after the other, like dominoes.
"All that ice is on the ground like a skating rink," Backman says. "You're tired, it's night time, the wind is blowing, it's 12 degrees and you can't really stand up straight. It's exciting, but you have to remember to slow down and keep your wits about you."
Even though conditions are not always ideal and the hours can put strain on his family life, Backman truly loves the job. "Linemen love to do it," he says. "It's fun and enjoyable. It's fun to get people's power back on and it's fun to make a lot of progress. People are often very appreciative and thankful for the work that we do."
When Backman and I say our goodbyes, he turns and says, "If your lights are ever off, just give us a call; we'll turn them on for you." And then he walks away, superhero style.
Sponsored