Having connected over six million low-income Americans to the internet via their Internet Essentials program, Comcast now looks to expand access by offering the program to low-income veterans.
Internet Essentials is the largest program of its kind in the United States, providing low-income families with internet access. Comcast Senior Executive Vice President & Chief Diversity Officer David L. Cohen and U.S. Olympians Monique Lamoureux-Morando and Jocelyne Lamoureux-Davidson are currently in the midst of a tour to promote the program.
On October 10, Cohen, Lamoureux-Morando and Lamoureux-Davidson were in Seattle to promote the program and announce changes Comcast made to grant access to more groups of low-income individuals.
"We're in Seattle as part of a multi-city tour, to support the eighth year of our program," Cohen said at a press conference. "It is important to Comcast, and myself personally, to connect low-income families to the internet; we want to make sure we breach barriers."
Both digital literacy and digital relevancy are issues preventing many low-income families from not only accessing the internet, but having the knowledge to navigate and use it for beneficial purposes.
Washington State's Internet Essentials' enrollment numbers are eighth in the nation. Since the program's inception, more than 260,000 residents across the state have signed up.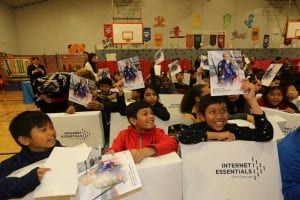 In most cases, to be eligible for Internet Essentials, a child in your family must participate in the National School Lunch Program. But in Washington, if you're a student in a school where 40 percent of kids participate in the NSLP, Comcast makes every family at that school eligible.
Joined by Internet Essentials ambassadors U.S. Olympic gold medalists and hockey players Lamoureux-Morando and Lamoureux-Davidson, Cohen hosted an Internet Essentials event at Beverly Elementary School in Lynwood. At the event, the team gave out 150 laptops to fifth and sixth-grade students and recognized the students as digital ambassadors.
"[The event] was unbelievable," Cohen said. "One of the girls came up to a member of our team and said she had been talking to her parents for years about how she needed a laptop. They had been trying to save for two years, but didn't know how long it would take. The fact she was able to go and home and tell her parents that she had gotten a laptop is amazing; she was crying with happiness."
Lamoureux-Morando said that after she and her sister got back from the Olympics, being Olympic Champions gave them a platform to do these types of outreach with different companies. Shortly after returning to the U.S. they sat down with Cohen to talk about community outreach programs and, once they learned about Internet Essentials, were excited to participate.
"We get a lot of satisfaction to go into communities and make a positive impact," Lamoureux-Morando said. "To be able to work with Comcast in this space aligns with what we are passionate about and this partnership is really special."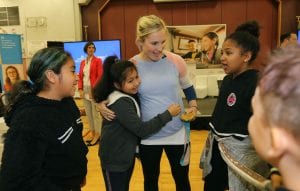 Cohen said Internet Essentials' participants don't need to reapply for the program each year; once eligible, they can participate and Comcast does not re-test them annually. This year, Cohen said Comcast made it a goal to open Internet Essentials to more groups of people.
If you are a resident in public or federal housing, you can participate in the Internet Essentials program regardless of age or whether you have children. And now low-income veterans can also take part, including those eligible for assistance programs at the state and federal level, such as SNAP.
According to the United States Census Bureau's 2016 American Community Survey, nearly a third of low-income veterans do not have internet access, and less than 60 percent own a computer.
Internet Essentials provides high-speed internet service for $9.95 a month plus tax. Plus, enrolled members have the option to buy an internet-ready computer for under $150.
There is one event left in the 2018 Internet Essentials tour, which will take place in Portland, Oregon on Veterans Day. And this is just the beginning for this exciting endeavor.
Sponsored