"My dream is for people to one day say, 'Where's Trader Joe's?' and have people say, 'Oh it's next to the Over Easy Café,'" says Jamie Bohnett, Over Easy Café owner.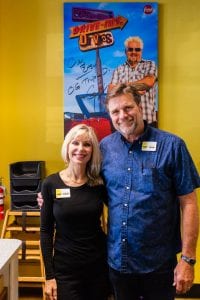 Bohnett has overcome a lot of hurdles since starting his business in Bellingham four years ago, but things are looking up. Not only is the food tasty and the seats full, he's found a community he loves.
Bohnett and his wife came up north after coming close to opening their business in Bothell. After sleepless nights and a lot of red tape, they had bad feelings about the building they'd chosen, so they looked north for better options. Bellingham had a golden halo around it, compared with the Seattle area.
Bohnett describes Bellingham as an easy, relaxed place to live, without traffic to contend with. "I love kayaking, and all my favorite places are up here," he says. "I love living here."
Bohnett notes Galbraith Trail's status as an international destination, how much he loves Bloedel Park and walking in Boulevard Park. "I realize how lucky we are to live here," he says. "It's the little simple things that are special."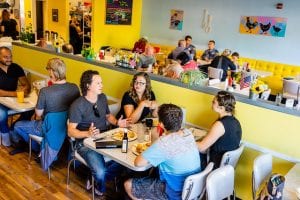 He knows they made the right choice. "Being here has been a great, great move," says Bohnett. "It's been uphill, but we've really had support from the community. I love being a part of it. I really envisioned that our restaurant would be part of a community."
After growing up in the restaurant industry and later working for 30 years in the nonprofit world, Bohnett is combining both skillsets and his passion for community service to give back to Bellingham. He uses his restaurant space and love of food to bring people together and give back to nonprofit businesses.
Bohnett has started a nonprofit called the Serving His Servants Foundation. "What we try to do is help nonprofit leaders in our community who are doing good works by providing a location for them to have fundraisers and information nights, and we have a lunch and learn," says Bohnett.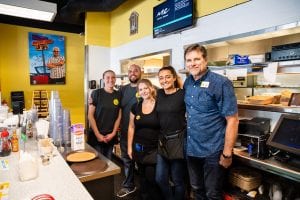 He also sponsors what they call "Better Together Breakfast," where 20 to 25 faith-based nonprofit leaders come together to meet and share a meal. Over Easy Café provides the space and the food for them to connect and share their stories. Bohnett says he wants these nonprofits to "know that they're part of a whole; they aren't just working by themselves." Organizations include Hope 4 Justice, an anti-human trafficking nonprofit, The Lighthouse Mission, who works to break the cycle of homelessness, International Christian Response, who helps persecuted Christians around the world, Whatcom Dream, who helps break the cycle of poverty, and dozens of other worthy causes. These organizations work in Whatcom County to help people out of bad situations and into better lives. "The thing I'm most proud of [is that] a lot of relationships have come from the Better Together Breakfast," says Bohnett. "One of the biggest things you can do is to encourage people."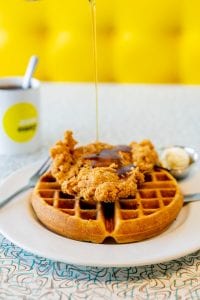 He's chosen four nonprofits who work with people striving to get out of tough life situations. Those working the hardest and making the best headway receive $25 gift certificates to eat at Over Easy Café. Giving them a nice meal is Bohnett's way of cheering them on.
And he's not finished there. "I'm going to develop a grant writing and nonprofit consulting business, working with these nonprofits and helping them find other ways of funding," says Bohnett. "That's my heart."
"I've had to learn a lot of lessons the hard way, but I feel like everything is being used in my past to help me do what I'm doing now; nothing is wasted," Bohnett says. "I love what I'm doing. We've provided a good place for people to come. I love the restaurant business and I love the people. We have a lot of regulars here and we've also provided good jobs for people. That's gratifying."
He's creating community and delicious food to boot. The Café's cheerful color scheme was created to make patrons feel happy and lighthearted when they walk in the door. Bright yellow tufted booths mixed with perky blue walls brighten up the space on a gray day.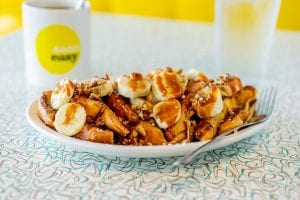 But don't be fooled by the atmosphere; this is not your typical breakfast joint. The Over Easy Café creates enticing twists on the classics, specializing in Americana. They have dishes from each area of the U.S.
Come in for the Southern Cheddar Jalapeno Biscuits or Chicken and Waffles, Corned Beef Hash and Eggs from the East Coast, Chilaquiels from the Southwest, Loco Moko from Hawaii or Bohnett's favorite: the Wolfpack from the Midwest, among other more traditional favorites. You'll be glad you did.
Over Easy Café
2430 James Street
Bellingham
360-656-6585