In the last year, Northwest Youth Services (NWYS) provided nearly 1,000 minors and young adults experiencing homelessness with food, shelter and supplies. Since 1976, the Whatcom County-based nonprofit has been a doorway to safety and pathway to progress for thousands of at-risk, runaway and homeless youth.
Through a series of quality programs, and partnerships with local organizations like Peoples Bank, NWYS continues their quest to end youth homelessness. Peoples Bank works with NWYS to provide sponsorship and financial resources, as well as internal leadership.
Hollie Brown, Peoples Bank's marketing manager, is also a NWYS board member. Brown says she didn't understand the scope of youth homelessness locally until becoming involved with the organization.
"The image in my head originally was pretty stereotypical of an old man huddled in a corner," Brown says. "I wasn't picturing a 16-year-old not having a home. When we have a better understanding of the causes of homelessness and who it affects, we can do more to help.
Reaching Out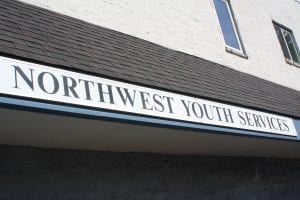 Riannon Bardsley, NWYS's executive director since 2009, says Peoples Bank has been an excellent local leader in how for-profit institutions can partner with nonprofits, benefiting each other and the communities they serve. The partnership has inspired Bardsley by showing that NWYS is not alone in shining a light on the underprivileged.
"Homelessness has lots of different layers to it," she says. "Young people are experiencing homelessness in Whatcom County and Skagit County. They're our kids' friends, they're students, they're young people who've experienced a lot of trauma, and gone in and out of foster care. It's complex and dynamic."
Some youth become homeless while escaping a domestic violence situation, either with a romantic partner or between parents. Many young people encounter multiple failures in traditional education systems or foster care, and many more are affected by mental illness and substance abuse.
And while adolescence in general is a time of emotional vulnerability, Brown points out that vulnerability is often vastly compounded for those who find themselves on the streets.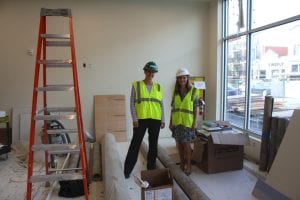 "They need that developmental help," she says. "Can you imagine being 16 and not having parents, or not having somebody guiding you on where you should be going or in your decision-making?"
That's why NWYS provides a variety of support services, beginning with general street outreach. NWYS outreach members work to find homeless youth between the ages of 13 and 24 and offer them snacks, showers, a place to rest and access to further services.
These services include behavioral health support for mental illness and chemical dependency, which are the leading factors in youth homelessness and incarceration. Last year, NWYS received a three-year funding commitment from the Substance Abuse and Mental Health Services Administration (SAMHSA). The funding allows NWYS to partner with community-based agencies, ensuring in-crisis youth have their behavioral health needs met in a comprehensive manner.
NWYS also offers vocational readiness, which helps participants plan and achieve employment and education goals. This includes one-on-one vocational support meetings, a "We Grow" partnership with Growing Alliances and a Youth Jobs Initiative.
Other programs include the long-running Teen Court, provided through a partnership with the Whatcom County Superior Court. The program gives juvenile offenders alternatives to juvenile detention and allows them to be judged by a jury of their peers. NWYS's Queer Youth Project provides an outlet for the LGBTQ community, which is largely represented among homeless youth. Services include family reunification counseling and youth safety and resiliency training.
Home Is Where the Help Is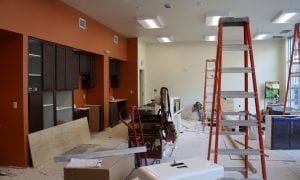 And then there are NWYS's housing programs. Emergency housing provides short-term lodging up to 90 days for both minors and young adults, while transitional and permanent housing programs provide affordable solutions for young adults.
NWYS is making a major impact through "22 North," a new multi-story apartment building providing supportive housing for homeless young adults. The building, located at 1022 North State Street, is slated to open in mid-October.
"It's a really cool, unique partnership with the Opportunity Council," Bardsley says of the project. "We get to provide housing to 20 young people who are unable to find housing anywhere else in Whatcom County."
The building will feature 40 studio apartments split between NWYS and the OC. It will have many of the aforementioned support services on-site, helping these young adults on their journey to independence and well-being.
An inability to find housing is an especially difficult obstacle to overcome. While minors are legally unable to sign a lease, young adults face different hurdles. They may not have a co-signer, a credit history or the ability to afford a security deposit. Combine that with a potential lack of understanding about leasing contracts, and many landlords simply won't take a chance on them when another applicant has more financial stability.
A project like 22 North is especially critical in Bellingham, where the rental vacancy rate is below one percent. On average, local renters spend nearly 42 percent of their income on rent alone. Bardsley says NWYS currently has around 100 young adults on a waiting list for housing. The organization is still identifying the best candidates for 22 North housing, and Bardsley says many of those already selected have struggled with homelessness for at least half a decade.
"We're really going to get to provide housing to some of the most vulnerable young people in our communities who can't find housing anywhere else," she says.
The Sweetest Reward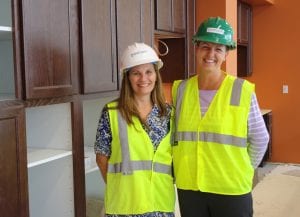 As a former NWYS case manager, Bardsley occasionally runs into the people she's helped. Recently, she bumped into two of them in a single week. A full decade removed from needing homeless resources, both stopped her to share how proud they were.
"They were grateful for what Northwest Youth Services did," she says. "They saw it as a place where they got to take a different path."
"Every human has an opportunity to contribute in a really positive way to their community," she says.
"I appreciate how Peoples Bank's values are based on doing the right thing – and that means encouraging employees to volunteer and give back," says Brown. "For me, offering my time and marketing expertise to NWYS as a board member is the right thing to do. It's important that we bring more attention to the organization and the young people who need help in our community."
Anyone seeking to donate time or money to NWYS can contact Bardsley or Jenn Daly, development director for NWYS. Additional information is available at their website and they're always looking for more volunteers.
"Homelessness is a product of our culture," says Bardsley. "We are so grateful for the support of Peoples Bank, and need everybody to participate in order to actually turn the corner and make a difference."
Sponsored