You're in a space with mod decor and a blown glass sculptural installation. A full bar. A patio with a view. It's not surprising a venue like this would host live music and local art. But is it surprising that it's in SpringHill Suites? This fall marks the fifth anniversary of the hotel's stay in Bellingham. To celebrate, they're hosting their annual ArtNight and making it their most engaging event so far.
On the evening of Thursday, October 25, SpringHill Suites' lobby will transform into an interactive art experience. Mingle among the colorful work of their six showcased local artists, who encompass a variety of disciplines. Or, if you're feeling inspired, try your hand at their table of provided art supplies and craft an impromptu masterpiece. Don't be shy, there will be ample opportunity to boogie down with a live performance by local musician, Ava Sakowski.
The event is a great opportunity to pick up a holiday gift for a friend whose walls could use a bit more color. The works will be for sale at an affordable price point to encourage people to take them home, and support a good cause.
In addition to supporting local artists, guests can also donate to SaveArt! It's an unfortunate reality that tight school budgets often target art programs as they trim their expenses. The money raised at ArtNight through SaveArt! helps alleviate the need for art supplies in these classrooms. SpringHill Suites wants to ensure children don't lose their access to opportunities for creative expression in an educational setting. For the third year, proceeds will go to Cordata Elementary School.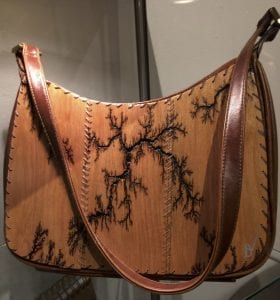 Carolyn Gill has been with SpringHill Suites for four years and is their ArtNight Curator. Talking with her made it apparent how excited she was about the event and, more broadly, about what SpringHill Suites has to offer. "We want to be involved in the community in any way we can," she says. "There are so many opportunities to experience art and live performances here, and we feel it's important to help support that."
ArtNight is just one of the quarterly events SpringHill Suites hosts to support the arts. They have a full "Art of Local" program through Marriott, which is actually a requirement for all SpringHill Suites Hotels. Each brand within the Marriott family has its own flavor, so to speak. SpringHill Suites happens to be their ambassador to local craft, food and visual arts. They organize events that aim to connect guests with their host community by celebrating local culture.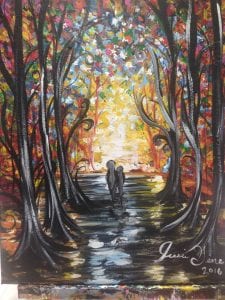 Gill took a recent trip to Marriott headquarters, and came away thoroughly impressed. She felt they really cared about connecting their hotels to the communities they were in, not just catching people passing through them. "I feel like I'm always talking up my work," she says. "But when you have this level of a product, it's easy to go out and talk about it!"
With an event this wonderful, SpringHill Suites also wants to welcome locals; you don't need to be a hotel guest to walk in their doors. ArtNight has become an approachable opportunity to show off what SpringHill Suites has to offer. "We see it as a chance to bring in locals so they can see what we're about," says Gill. "We depend on them in the off season, so we want to keep ourselves in the community's mind and, at the same time, support local artists and schools."
Once the summer tourism crowds die down, local hotels often lean on the support of their community to get through to the next season. What does that look like? Maybe you're a parent who wants a date night out, away from your angelic children. Getting a room at SpringHill Suites can feel like a world away. They even have a complimentary shuttle service to take you downtown for dinner and back. SpringHill Suites also has a full bar with happy hour and appetizers seven days a week and everyone is welcome.
Or perhaps you're organizing a corporate luncheon. They have multi-use spaces available to rent, perfect for company meetings and seminars. Gill's favorite place is their 4th floor Terrace. A door at the end of the hall opens up to a tidy patio with a view of Mount Baker's slumbering form. She thinks it's the perfect place for private events and fundraisers.
If you want to bring home a fabulous new piece of local art, enjoy an elegant event or can see yourself using SpringHill Suites' offerings, save the date for this year's ArtNight! The festivities begin at 5:30 p.m. on October 25. Donations for SaveArt may be made at any time through the end of the year at the SpringHill Suites' front desk.
Sponsored