Soft rock music plays as I walk into The Racket's two-story, shotgun-style bar one afternoon. A few pieces of art line the front wall, vestiges from Downtown Bellingham's Art Walk. Opposite the bar, funky felt screen-prints hang in ornate golden frames.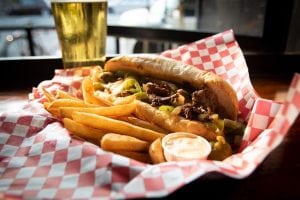 And somewhere in the back, I hear whirly, clinking music.
"We had a few pinball machines upstairs at The Shakedown before opening The Racket and people really dug it," says Hollie Huthman, part-owner of The Racket, from a quirky red barstool. "Now they're all upstairs. It's really cool up there. You should check it out."
We wait for Hollie's business partner, Marty Watson, as she explains that The Shakedown opened as a live music venue in 2011. The Racket is its sidebar.
A menu matching the style of the bar—black and red, comfortable, simple—sits in front of her. The black side lists variations of Philly cheesesteaks (classic, contemporary, American) while the red side lists falafels (standard, no frills, deluxe).
"When we opened The Shakedown, the space came with this huge kitchen," Hollie says. "We weren't thrilled about the idea of doing food, because neither of us had experience running a restaurant. But we thought, we have this enormous kitchen and we might as well try it out."
Marty walks in, sporting a grey beanie and greeting me in a thick Irish accent. He listens while I ask Hollie about the culture at The Racket.
"The menu is just one aspect of enhancing this space as a community meeting place," she says. "From our rad staff, to the live music, to the pinball, to sitting and drinking with friends, it all makes this a place people want to be."
According to Hollie, the Downtown Bellingham business owners are a "tight-knit" group.
"Everyone is really excited about supporting each other," she says. "The guys from Old World Deli actually tested our menu."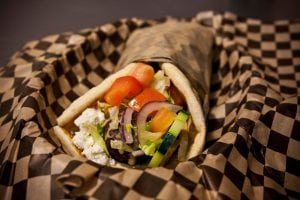 Hollie and Marty worked in different industries before opening their current venture. I ask what they'd be doing if they hadn't opened The Shakedown.
"I worked at WECU for twelve years," Hollie starts, "so I would probably have never left."
"And be a lifer," Marty chimes in.
Hollie laughs and nods. "And be a lifer, yeah."
Hollie excuses herself for an appointment and Marty suggests that we take the interview to Old World Deli. He explains how The Shakedown's menu came to be.
"I was watching these restaurant shows and Gordon Ramsey is yelling at these restaurant owners, saying, 'Why do you have 50 options on your menu? Have eight or ten.' I liked this whole thing of simplifying. And we thought, let's do a few things and do them better than anyone. So as much as I loathe to admit it, Gordon Ramsey probably was a little bit of an inspiration," Marty says with a smile.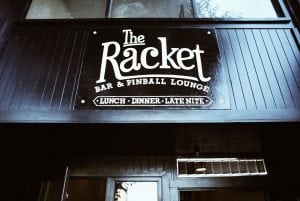 But why falafel and Philly cheesesteaks?
"I came up with the falafel and Hollie came up with the Philly," Marty says. "I've been a strict vegetarian most of my adult life, so I wanted to do something classic vegetarian, but also in a way that could be sold to non-vegetarians. Falafel is your classic street food and we thought, what is a classic American street food? That's Philly cheesesteaks."
The two set about developing and perfecting these items. "A friend of mine who worked at D'Anna's wanted to help us create a menu," Marty says. "We started doing research: What makes a classic falafel authentic? What makes a Philly authentic?"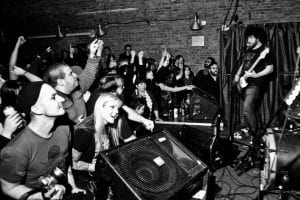 Marty explains the importance of the Amoroso bread for the Philly, which The Racket imports directly from Philadelphia. As for the falafel, it's all about the hummus. "We make things from scratch as much as possible in our kitchen," Marty says. "We're making the falafel, we're making the hummus, we're making the tahini. And I think it shows."
Marty takes another sip of coffee and explains the variations on the menu. "The original cheesesteaks are provolone, the Cheez Whiz is the contemporary option, and the American cheese is in between the two. The peppers and onions aren't done at the authentic tourist places, but we felt that would add volume and texture."
Marty has brought something else to The Racket: his own cultural heritage. "As a small lad, my father would take me to these very small pubs in North Donegal; these very old, working class, very beautiful places," he says. "I remember him having a Guinness and telling me about why the Guinness was really good when it was poured properly."
When Marty moved to America, he couldn't get a good Guinness.
"When we opened The Shakedown, there was no way to implement a system to do it because I couldn't communicate to some metal fan that he has to wait four minutes for his drink," he says. "When we opened The Racket, I wanted a proper system and for my bartenders to know exactly how to pour the perfect Guinness. Like the menu, the authenticity of the Guinness is important to me. I'm really proud of that. If you're going to do something, you do it well."
Sponsored