Northwest Indian College (NWIC) first year advisor Shoshaunee Elliott is a college success story. She earned her associates in 2013 and, after a break to explore other options, will receive her BA in the spring. Many student services staff are either concurrent students or graduates themselves, which "speaks to their family atmosphere," Elliott says. And indeed, like a family, as we walk through campus Elliott is greeted with smiles, waves and hugs. I can see why she's happy here.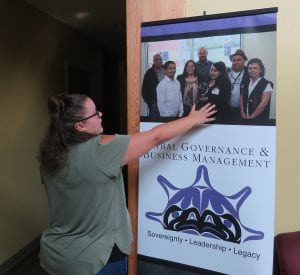 Elliott also attended both Western and UW at different points. She says the obvious difference between NWIC and other campuses is the size, which lends itself to that family atmosphere. "It's a more homey feel," she says. "We walk around campus and all know one another or even have a meal together. We all interact a lot with faculty as well. As a student here I have definitely had a feeling that faculty were invested in my education."
The college is academically rigorous for those interested in advancing their studies to the highest levels but there is also special attention paid to those students who fall behind or had little access to academic support before coming to NWIC.  Students can take pre-college level classes to catch up (many are available tuition-free in the summer) or refresh themselves if they've been out of school for some time before enrollment. They do accept running start students and also welcome non-traditional students at all stages.
Their most popular programs are the direct transfer associates degree and the tribal government and business management bachelor's degree.
The college is a part of the American Indian Higher Education Consortium (AIHEC) which, Elliott says, "supports 36 tribal colleges across the states." NWIC itself boasts six sites (the farthest of which is in Idaho) beyond the main Lummi campus, contributing to AIHEC's 75 campuses in 16 states.
NWIC is the only resource of its kind in this region. The next nearest is in Montana or Alaska.
Elliott explains the support systems that are in place and I'm astonished at the college's efforts to ensure student success. This is truly a student-centered approach to education. At NWIC there's room for students to need help, to struggle and still succeed.
They even have a state-of-the-art childcare facility. It's divided into two sections; one for the babies and another for the young children, which offers care from three-months to five-years.
There's a large dining hall which is open to tribal members as well as students. It offers affordable, delicious meals three times per day and twice on weekends. There's a store, a beautiful library, a theater, technologically current classrooms, multiple computer-enabled classrooms, several gardens and a community center. Everywhere you turn, there's staff who are smiling, friendly and welcoming. The buildings are beautiful, the people are kind and the time spent there is pleasant. It just feels good. I imagine being a student, staff or faculty member there is pretty great.
Classes average 25 students in the early programs and much fewer in more advanced levels. This, too, helps students to connect and find support for success.
"Reciprocity," says Elliott, "is a big thing in Native culture." So classes are often structured to create opportunities for peer-to-peer learning and to ensure Native voices are centered even in classes where the instructor may be non-Native.
The students are predominantly Coast Salish of the Northwest. Some come from other U.S. tribes and, through an agreement, even from Canadian First Nations peoples. But NWIC doesn't otherwise accept international students. Still, many tribal cultures come together here and they make room for each other as each class focuses on "place-based" assignments. These may look different for each student depending on their specific heritage. The college's attention to unity alongside individuality seems uniquely supportive.
"Our faculty can teach us, yes, but because so many of our faculty are non-Native, they know that we may have an understanding of a culture that they really don't know much about," Elliott says. "Our faculty are great at not assuming things, at allowing us to teach them what we may know as well."