Walking into Launching Success is like entering a party and schoolroom at once. Learning is fun here. "I want it to feel good when people come here; that they can ask any question and get the help they need. I want them to feel welcomed and to have a good experience here," says Jen Zimmermann, co-owner with Kristen Ladiges since 2013.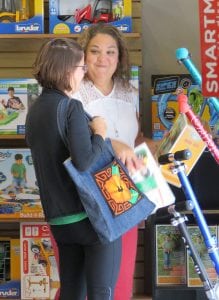 Zimmermann loves running the store, spending her days considering how to help customers and what to order to solve challenges for families and teachers. "I love the interactions with people," she says. "Helping people is a real joy. And then seeing real successes for the customers when they come back … just seeing that …" She trails off. It's obvious this work has real meaning for her.
Launching Success exists to support the children and families of Whatcom County. Zimmermann and Ladiges' efforts reflect that belief. They develop relationships with several Whatcom County organizations who support the children and families Zimmermann and Ladiges believe in so strongly.
Launching Success has partnered to work with schools, teacher groups, science clubs, homeschool groups and more. But they're particularly proud of the ways they support Blue Skies for Children, Lydia Place and Skookum Kids. "We can work together to create a wonderful community in Whatcom County," Zimmermann says. "We all have the same feeling about kids and we all want kids to thrive wherever they're at. Whether they're homeless or living in a wonderful family or whether they're struggling, we all just want kids to be successful. We all have that same mission one way or another."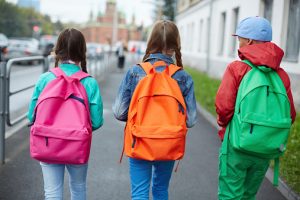 Blue Skies for Children works to support homeless, low-income and foster children in Whatcom County. Julie Guay at Blue Skies for Children says Launching Success "has been a supporter for many years," adding that they, "attend our events and support our greater community in many ways."
Zimmermann is intent on Blue Skies' mission. You can see that she's focused and passionate. Their work matters to her. "I love all the great programs they offer," she says, "from giving out backpacks to giving away slippers to winter coats. Whatever season it is, they have the kiddos in mind. I know in the summer they have kids' classes too. It's just a constant; whatever season we're in, we're going to give back to kiddos."
Zimmermann encourages others to step up too, adding that it's easy to give to Blue Skies. "Sometimes it's hard for families who are struggling or living paycheck-to-paycheck to feel like they can contribute," she says. "But everyone can contribute a pair of slippers. It's easy to contribute there."
"[Launching Success] is a wonderful advocate of Blue Skies," Guay says. "We appreciate [their] generosity and true passion for our mission."
Lydia Place serves homeless families in Whatcom County with transitional housing and other services. "I love that they work with both women and children," Zimmermann says. "I love what they do."
Zimmermann used to teach kindergarten and her love of the children (or "kiddos," as she calls them) sparks with every word.
Skookum Kids, the youngest organization on this list, works to support foster families in Whatcom County. They hope to "bring fresh ideas and energy to a broken system" and "see hope and change."
Skookum Kids goes beyond simple support, trying to fix the system as they see it. "Skookum Kids works to eliminate the pain points that make life unnecessarily difficult for foster parents and social workers," says Laura Ann Poehner at Skookum Kids. "We often find ourselves down in the weeds, bringing awareness to the foster care system in our community, lobbying for policy change as it relates to a broken foster care system and bringing relief to those overwhelmed by it."
Zimmermann glows as she praises their work. "I love Skookum Kids because I feel like their mission of supporting foster families is amazing. Besides the fact that they help the foster kids, what they're doing for families is amazing – offering them support, parent groups, classes – so you can become a foster parent and have support."
"Launching Success serves our community, specifically our families, and provides them with games and activities that foster play and creative thinking," Poehner says.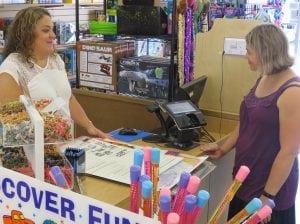 Launching Success supports and encourages these organizations and they've backed that up with both donations and time. "Launching Success' support helps fund our work," says Poehner, "but it also reminds our community that every child deserves to laugh and play regardless of their background."
Launching Success strives to bring a commitment to engaged, learning-centered play to all corners of the community. Zimmermann explains that they will voluntarily attend school group meetings, homeschool meetings, science clubs, math clubs and more with piles of games and activities for students to try out, play with and learn from. Zimmermann says it's her mission to "meet kids where they are" rather than to ask kids to live up to some ideal.
"We love that," Poehner says, "because that's what Skookum Kids is all about, providing the resources to ensure every child gets a chance to have a safe and fun childhood."
Teachers also find Launching Success' support invaluable. If a teacher comes to the store for supplies during the months of July or August, Launching Success provides a desk calendar to help with their planning (while supplies last). During the last week of November when parents are shopping for the holidays, Launching Success offers a "shop for schools week." During this time, shoppers can designate any local school at checkout and that school will receive 10 percent of that purchase. This program enables Launching Success to support local school programs with direct donations while parents and friends choose which schools receive the benefits.
Launching Success believes in direct action. Julie Guay of Blue Skies for Children says, "Jen is donating 100 Frisbees as a giveaway at the upcoming Ferndale Street Fair event and she's donating to our Annual Dinner and Charity Auction occurring on October 27, 2018. She attends our events and supports our greater community in many, many ways."
Zimmermann's true passion shines through. She's excited to see kids, talk to people and help every person who walks in the doors. When asked what she most wants for the kids and families of Whatcom County, she pauses thoughtfully and says, "Pure joy; happiness and peace in their lives. I would love for them to be courageous and to be full of wonder. Just love interacting with people. Have grit." She reflects for a moment, perhaps thinking of what Launching Success does so well, and adds, "Be encouraged by one another."
Sponsored