Submitted by: Atwood Ales
Updates to Bellingham fine dining restaurant, Hundred North and Belgian style farmhouse brewers, Atwood Ales' field dinner on August 10 and 11 have been released. Included are a tentative menu and updated travel information. Tickets are $125 per person and include transportation to and from the parking lot at Civic Field in Bellingham to the farm brewery in Blaine, a starting cocktail, five beers and a ten-course meal. Attendees who are coming from Canada or live north of Bellingham and would like to drive to the event will receive the address after they have purchased tickets.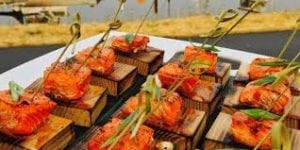 Chef Todd Alan Martin has been hard at work and has released a first draft menu for the event along with the beer pairings:
Menu
Beer: Mo's Saison brewed with Honey Suckle
Pairing 1: Drayton Harbor Oyster, grilled and chilled, cat tail shoots, elderflower vinegar
Pairing 2: Spotted Owl Farm patty pan squash salad wrap, green bean, shiso, burdock
Beer: Basilic Aux Fraises Saison
Pairing 1: Grilled sesame flatbread, ripe and green tomato, ripe and green strawberry
Pairing 2: Beet juice pickled egg, sunflower seed, heirloom tomato caviar
Beer: Rhuty Rhubarb Sour
Pairing 1: Riverhaven Farm Lamb and Cloud Mountain Farm Kale dolmas
Pairing 2: Valley Farmstead Rabbit Liver Pate buckwheat crepe with smoked peach jam
Beer: Grange Farmhouse
Pairing 1: Valley Farmstead Roasted Rabbit, Holmquist hazelnuts, lovage
Pairing 2: Smoked new potato, black currant, pickled garlic scallion
Beer: Dark Harbor Oyster Stout
Pairing 1: Local cave aged gruyere grilled cheese sandwich, whole grain mustard
Pairing 2: Molasses Cookie sandwich, stout cream, beer mash caramel
More information and tickets are available at www.atwoodalesfarmdinner.com.
Hundred North is a locavore restaurant in Bellingham, Washington. Committed to the art of food, they produce a unique culinary experience featuring the produce of local farmers, fisherfolk and the imagination of Chef Todd Alan Martin. Atwood Ales is run by brewers Josh and Monica Smith. Their French/Belgian inspired farmhouse beers incorporate ingredients from their farm and other regional producers.