Puget Sound has one of the most biodiverse marine ecosystems on the planet. If you scooped a handful of water and mud from Bellingham Bay and compared it to one from the clear blue Caribbean, you would see a big difference in the number of plants and animals present.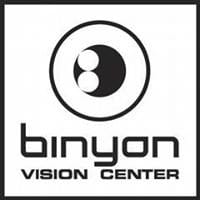 The Marine Life Center brings marine life to you. With more than six interactive exhibits, guests can learn everything there is to know about our local underwater ecosystem.
Intertidal critters like clams and sea stars aren't the only things you'll find here. The Marine Life Center partners with permitted local commercial fishermen to bring them their bycatch. Most animals that live in deep water won't survive being tossed overboard, so donating interesting creatures to the center is a win-win.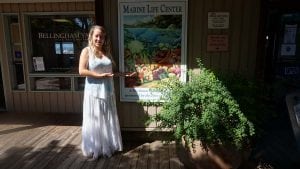 All animals at the Marine Life Center are found in the Puget Sound, caught generally within two hours from Bellingham. Fishermen work to bring them things that are either injured or make for interesting education. Marine Life Center Director Casey Pruett says they like to display deepwater animals so the public can see what it looks like down there.
"We want to inspire people to love this stuff, so they will take care of it too," she says. "Our motto is marine stewardship."
Sometimes, they nab a giant Pacific octopus, the largest octopus species in the world. These brainy and beautiful creatures can grow to six feet long, weighing more than 50 pounds.
It doesn't seem the size of the tank stops them from growing, either. The Marine Life Center has seen them grow as much as ten pounds a month. Pruett says that's why they don't keep one for long.
After one pesky octopus named Kraken decided to take a nap behind a pipe, the glass tank broke. The Marine Life Center promptly built an "octopus-proof" version.
The creatures are often very social. They'll request belly scratches, play peek-a-boo and readily learn shapes and colors. "We enjoy having them," Pruett says. "We live in an area where a lot of people can't experience this elsewhere."
As things breed, grow or die, the Marine Life Center changes out animals and makes exhibit adjustments. Pruett says that's a good thing. "They're breeding and that makes me happy, that makes me feel like I'm doing something right," she says. "Their tanks may not be exactly what they had in the wild, but usually we can make it similar or adjustable to them."
While an octopus doesn't always live there, their tanks are never empty. Wall to wall, the space is filled with animals and educational displays.
Their biggest exhibit is an open-air observation pool with large creatures like rockfish with neurotoxic spines, giant green anemones and a funny flounder named Mr. Waffle.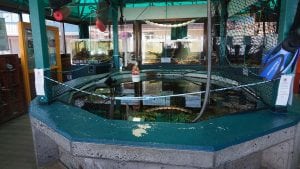 A pig-faced fish called a grunt sculpin hides out with sea stars and pipefish in the Rocky Shore Habitat tank. Listen closely – the aptly named animal actually does grunt.
A visitor favorite, the touch pool, encourages you to roll up your sleeves and get a feel for local marine life. Hermit crabs, sea stars, urchins and small fish are aplenty, making for a fun hands-on experience that you often can't reach in the wild.
The Marine Life Center is a nonprofit operated by the Northwest Discovery Project, supported by community donations and the Port of Bellingham. Casey Pruett has been directing the center for six years and is the center's only full-time employee.
With help from volunteers, interns and one part-time employee, Pruett maintains everything in the center. When they aren't feeding animals or testing water quality, Marine Life Center staff and volunteers are engaging the public through environmental education.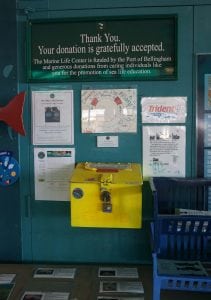 Every Saturday, the center holds a "noon creature feature" program to take an in-depth look at one of their animals or exhibits. The presentations vary but often involve feedings and hands-on activities. Pruett says her favorite lesson is on the phylum of echinoderms, which compares sea stars, sand dollars, cucumbers and urchins.
Classrooms are welcome to schedule field trips to the center, which they often combine with a visit to the nearby beach. In exchange for a donation, Marine Life Center staff is happy to provide educational presentations and a tour of their facility. They also discuss beach etiquette for all ages, setting students up for a future of environmental stewardship.
The Marine Life Center is an interactive and educational space for families, tourists and marine enthusiasts of all ages. Their facility is located on Bellingham's waterfront and marina path near Zuanich Point Park and they're open seven days a week. What are you waiting for? Head to the Marine Life Center today!
Marine Life Center
1801 Roeder Avenue #100
360-671-2431