There's no better time for camping in the Pacific Northwest than during the summer and fall. And there's no better place to camp than the Mount Baker Wilderness. Here's a quick guide to make your camping trips the best.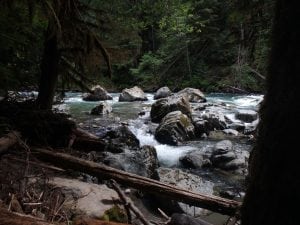 Enjoy the feeling of deep wilderness while staying within reach of civilization. When it comes to camping, Douglas Fir Campground really is the best of both worlds. Their sprawling sites are almost always private and their paved loops are suitable for family bike rides.Head to their camp shelter to check out local events for all ages, like salmon ecology talks from the Nooksack Salmon Enhancement Association, or host a family gathering.
Visitors can set up tents or park RVs at riverside spots or under the shade of the old growth forest. Douglas Fir is the closest campground to the town of Glacier which has a few lively shops and an informative ranger station.
Local river rafting companies launch their boats near this campground. You can enjoy watching the rafters battle the rapids from your site or participate in an easy-access adventure.
A beautiful nature trail, Horseshoe Bend, is a quick jaunt away. The 2.4-mile walk is suitable for all ages and abilities. It weaves in and out of old growth forests with magnificent views of towering Mount Baker and naturally emerald waters of the Nooksack River. It's the perfect trail to practice identifying plants and catch a glimpse of wildlife.
This group camp is the best option for large off-the-grid gatherings. Whether your workplace envisions a team-building camping trip or you want to throw yourself the ultimate outdoorsy birthday, Excelsior Group Camp will serve you well. The campground must be reserved in advance – so sign up here.There are two large group campsites at Excelsior Group Camp. Site A sleeps 50 people and includes six picnic tables with fire pits. Site B holds the same number of people, but comes with 15 picnic tables with fire pits. They both make top-notch gathering spaces and offer stunning scenery and access to a vast amount of hiking trails. Before you go, know that drinking water and electric hookups are not provided. Luckily, vault toilets are.
At Excelsior, the Mount Baker Wilderness is at your fingertips. Nooksack Falls is a must-see feature less than two miles away. Head East on Mount Baker Highway and you'll come across signs for the magnificent landmark.
The trail to Nooksack Falls can hardly be called a trail. Parking is available steps away from the waterfall, allowing all ages and abilities to enjoy the view of the 88-foot drop. An informational kiosk details the area's history and discusses its hydroelectric facility. Trails around the falls are worth exploring, offering alternate views of the rapids.
A chain link fence surrounds Nooksack Falls, but it's still crucial to use safety precautions. According to Northwest Waterfall Survey, at least 11 people have died there since 1940.
A few miles away from Mount Baker Highway lies Silver Lake. The surrounding campgrounds are expansive and popular among local families, and there are even lakeside lodges and cabins to rent.Rowboats, pedal boats, canoes and stand-up paddleboards are available for rent at the Silver Lake Day Lodge. The large lake is a popular fishing and boating destination with its own public boat launch and shoreline fishing access.
Four campgrounds surround the lake, including one designated group camp at the south end of the park. This site can accommodate large groups, like RV clubs, churches and family reunions. A big picnic shelter with multiple cooktops and fire pits is available nearby, making it the perfect place to host a potluck.
Two of the four campgrounds at Silver Lake are RV-friendly and the Red Mountain campground even includes horse stables for overnight boarding.
Last but not least, Silver Lake Recreation Area features a large playground for endless summer fun. With all of their amenities and activities, you won't need to stray far from your tent.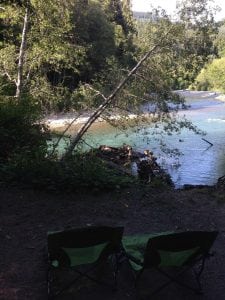 Situated near the base of Mount Baker, Silver Fir Campground features 21 established sites complete with picnic tables and fire rings. A community event shelter can be reserved for birthday parties, family picnics and more.For daytime entertainment, the legendary Artist Point is just a quick jaunt away. When you exit the campground, head east until Mount Baker Highway ends and prepare for breathtaking 360-degree mountain views.
There are two notable stops to make along the way:
First, ooh and awe at Picture Lake. The name speaks for itself – it's a picturesque lake sitting in the shadow of Mount Shuksan. There's an ADA-accessible trail around the small body of water and plenty of places to stop for a photo. The mountainous backdrop can't be beat.
Heather Meadows is a visitors' center between Silver Fir and Artist Point. As its name suggests, meadows of heather and huckleberry dot the landscape there. Interpretive signs allow for exciting outdoor education and a lesson in natural history. Rangers are often on-site to answer questions. You might just catch an educational presentation at the visitors' center too. Heather Meadows is a perfect place to stretch your legs for a nature walk and mid-day picnic.