Okay, you caught us – nothing is that easy. But Ten Fold Farm and Sustainable Connections are working on a Food Recovery Initiative that aims to eliminate food waste in Whatcom County. How does this save the world? Mark Peterson, Sustainable Business Manager at Sustainable Connections, reported that in a study researching how to decrease human impact on the global climate, reducing food waste was number three on the list.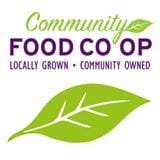 According to Mark, humans waste about 40 percent of our global food supply. And, it's not just food we're wasting, it's the resources that went into growing that food, as well. That includes land, water, fertilizer, soil, transportation, fuel and countless hours of labor by the farmers and everyone involved. Instead of allowing these resources to be wasted, The Food Recovery Initiative takes excess food product from local restaurants and businesses and redistributes it to local shelters, farms or manufacturers.
Besides helping decrease our contribution to global food waste, the Food Recovery Initiative also supports local farmers, contributes to the humane treatment of farm animals and creates a more sustainable, connected local economy. So, by buying a berry – or whatever food you prefer – from a farm participating in the Food Recovery Initiative, you are in part saving the world.
The initiative, managed by Sustainable Connections, aims to create partnerships between businesses and farmers to reduce food waste and eventually eliminate food waste altogether. Modeled after the Food Waste Pyramid, the initiative essentially recycles food waste based on its usability. The first step on the pyramid is to simply cut down on making excess food. In the event you do have extra, here are the steps the Food Recovery Initiative wants restaurants to go through before tossing it out.
Feed the Hungry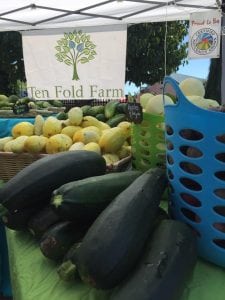 On top of the pyramid is feeding hungry people. If restaurants have leftover meals suitable for human consumption, the portions are picked up by local hunger relief networks to feed people in need. Some participants include the Miracle Food Network, Northwest Youth Services, The Lighthouse Mission and Catholic Community Services. These non-profits are conducting daily pickups from local restaurants around Whatcom County and feeding people who would otherwise go hungry.
Team Up with a Farm
For non-edible leftovers like food scraps, wilting produce or foods past their expiration date, grocery stores and restaurants can team up with a local farm (like Ten Fold Farm) to use the scraps as animal feed. This not only helps local farmers financially, but also supports the humane treatment of animals.
While standing next to a pen of cheery pigs, Ten Fold Farm Owner Tiffany explains, "You could sustain yourself off oatmeal and some vitamins for every meal, but would you be happy about it? The food scraps keep my animals happy; they don't want to eat boring grain every day, either."
And happier animals mean healthier animals. Donated food scraps increase the quality of nutrition the animals get. In the end, the better the pigs get fed, the better the consumers get fed, too.
Non-edible scraps can sometimes be turned into oil or fuel by local manufacturing companies or, if there are no other uses, composted or put in the landfill.
The Food Recovery Initiative started in June of 2017. Ten Fold Farm was one of the pioneer participants and had been doing food recovery partnerships with local restaurants since before the initiative came into effect. Owners Tiffany and Chris have picked up scraps from northwater restaurant at the Holiday Inn Hotel & Suites since it opened in 2017 and last year took in over two tons that would have otherwise been thrown in the landfill.
Tiffany ran into Mark Peterson at a Farm to Table event hosted by Sustainable Connections and the two got talking about what Ten Fold Farm was doing to reduce food waste. After many conversations and meetings, Mark began creating a network of other restaurants and farmers that could implement the same practices Tiffany started. This network is now part of the Food Recovery Initiative.
For now, farmers are responsible for picking up scraps and then washing and returning the scrap buckets, but Mark is hoping to add a delivery infrastructure in the near future. Though it does take some extra effort on her part, Tiffany says it's worth it to keep her animals happy and create strong community relationships.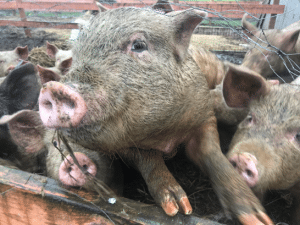 "When you're dropping off product to a restaurant, your interaction is very professional and to-the-point. But when you pick up food scraps, it's an entirely different level of connection," she says. "You talk about the farm or about the animals and have real conversations."
Tiffany fondly remembers a northwater scrap pickup after a litter of piglets was born. The northwater employees not only had her regular scraps, but set aside a special bucket of strawberry tops and other special treats for the baby pigs. It's relationships like this that build community and keep the county thriving. Plus, it made the piglets happy, too.
The Food Recovery Initiative is making Whatcom County less wasteful and more sustainable. To support this movement, shop at participating establishments and farms such as Ten Fold Farm, The Community Food Co-Op, Pizza'zza, Boundary Bay Brewing, Mt. Baker Care Center, Papa John's Pizza, Colophon Café, Culture Cafe and Cauldron Broths. Mark hopes to have 12 more added to this list by the summer and 30 more in a year.