Bellingham's Sophie Williams is the founder of Raven Breads, which she runs completely solo. Sophie is conscientious, highly principled and fueled with passionate ideals. She also makes some really great bread.

Sophie's organic, whole grain sourdough bread is made from ingredients sourced as locally as she can possibly find them. Sophie works very hard, sometimes putting in sixteen-hour days. But her efforts have paid off; after baking 7,200 loaves of bread last year, Raven Breads saw a 50 percent increase in business.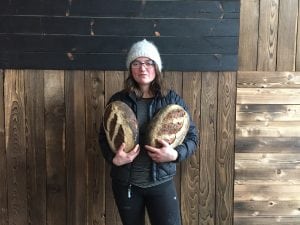 Sophie is originally from Seattle. She studied geology and ecology at Carleton College In Minnesota. She moved out to the islands after graduation and patched together a resume of ecology fieldwork, farmwork and construction, before moving to Skagit and then Bellingham to work for Viva Farms and Growing Washington. 
After college, Sophie took three years to decide if her life's work could be in farming. When she determined this path wasn't for her, she began to bake bread. Making bread became her passion project. She loves working with her hands – she mixes and kneads every single batch of bread by hand!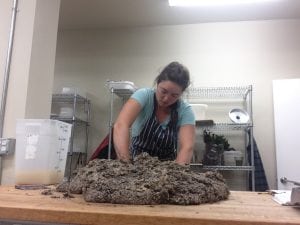 Having her own company allows Sophie to work according to her own ideals, including bike-only transport. Her bike commute for all of 2017 was a whopping 1,200 miles. She also refuses to use even an ounce of white flour. "I want to be part of bread as food," Sophie says, "to bake the kind of bread you want to eat."
Her company is called Raven Breads because Sophie wanted a name that felt connected to this place. "I was intrigued by corvids (birds in the crow family) as a child," she says. "I loved watching them, reading books on their natural history and reading Northwest native stories about Raven. So when I was searching for a name that felt tied to the Pacific Northwest, Raven Breads felt like a good fit."  The whimsical Raven logo was designed by fellow farmers market vendor and commercial artist Claudia Bernal.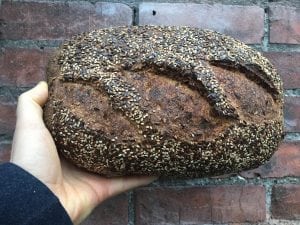 Raven Breads' specialty is organic whole grain sourdough. Made in the tradition of heavy Scandinavian style bread, Sophie's top-selling Mountain rye is pithy and absolutely vibrant with flavor. She comments on her website, "I love making flavor dense, ingredient-inspired bread and pastry." She has the market cornered on this kind of bread.
Sophie and I met for a cup of coffee on a rainy morning. She arrived towing her bike trailer. If you've ever seen her riding the bicycle with the trailer piled high, you understand why "sometimes the commute with a trailer takes longer."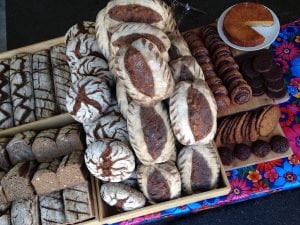 As Sophie's business evolved, she felt compelled to purchase a truck. Borrowing a friend's car to pick up 50 pounds of flour was one thing; but when it became necessary to pick up hundreds of pounds of flour, having a vehicle seemed prudent.
Sophie sells her baked goods at both Bellingham Farmers Markets. You can also get her bread by subscription and pick it up in three locations. She currently sells wholesale to Bellingham Cider Company, Primer and Velo, plus through Viva and Growing Washington Farms CSA's.
The Raven Breads website features a delightful newsletter, which is inclusive, detailed and endearing. As Sophie describes her adventures and her passion for her work, readers really get a feel for her dynamic character and her terrific sense of humor. It's a unique and authentic strategy to be vulnerable and open. The postings really work for her.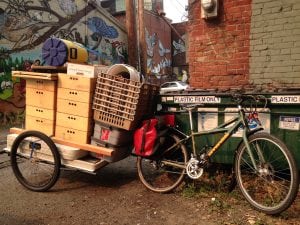 Sophie dreams of having her very own brick-and-mortar store some day. This would allow her to expand her product line, delegate some of her to day-to-day tasks to employees and to mentor others who love to bake as much as she does. Until that store becomes reality, visit Sophie at the Farmers Market and give Raven Breads Mountain Rye a try!
Sophie Williams | Baker
Raven Breads
206-484-7089
Facebook
Instagram