Have you ever wondered if more is possible for your organization? Or struggled to move past frustrating challenges to realize your boldest mission? Molly Ware, PhD started her consulting business, WeEvolve, with these questions in mind. She loves helping organizations build the commitment and energy necessary to propel change and forge innovative solutions for their toughest challenges.

As I sit with Molly in the downtown Community Food Co-op, she shares a great analogy about how her work helps organizations through that stuck feeling – when they don't know their next step. "When you're sailing in stormy conditions, which I hate by the way, you need a deep rudder and bearing to move forward through the turbulence rather than getting thrashed about. Without it, it's incredibly frustrating, which is often how people feel when things are changing in their organizations. With a little strategy, the entire experience can feel quite different. Still edgy – but in a good way."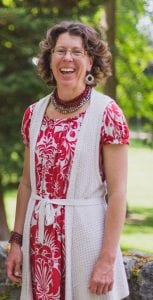 WeEvolve's mission is to support the human side of change. For instance, Molly works with companies that have an influx of employees who see new possibilities that clash with assumptions held by veterans, who may resist change. How can an organization move forward in times of sharp polarization? WeEvolve helps organizations innovate in response to their toughest challenges and concrete business problems. And she does it in ways that don't set off an organization's instinct to kill what's new.
Molly partners with leadership to design and implement steps that address problems and propel the organization through turbulent times. She also works to transform the tension between old and new in ways that spark something dynamic and innovative. We both agree it's much healthier for the organization as a whole when both sides' experiences are acknowledged and when the creativity in opposition is leveraged. The concept gives me a lovely image of rich cross-fertilization.
I find this fascinating and quite difficult to do, so I want to know Molly's beginning steps when working with an organization in transition.
First, Molly does what she calls "listening from the whole" to diagnose concrete business problems and identify the organization's bold goals. Through the various roles she's held at Western Washington University – as Director of Western Reads, leading a change initiative as a tenured faculty member in the Secondary Education Department and serving as Faculty Senate President – she has come to realize that people can easily be trapped by their viewpoint. So she seeks to understand the whole picture and build bridges between the change-makers and organization leaders. She views both roles as essential in organizations realizing their boldest contribution to society.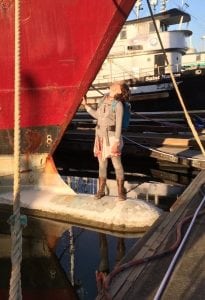 Molly's approach is unique in that she helps organizations build on their assets while working with the organization's culture and integrity. WeEvolve helps the organization achieve small successes that grow shared energy for the work ahead. "Creating bold new solutions requires energy," Molly says. "And pointing at what's broken over and over again saps energy from a system – the very energy it needs to change."
Rather than endlessly pointing at what's not working, Molly connects an organization to what it's trying to accomplish long-term. This serves as a compass to guide them through the storm. "It doesn't do a lot of good to keep one's energy focused on how mad you are about the crashing waves against the side of your boat if you want to sail through the storm as efficiently and with as little damage as possible," she says.
When should you call Molly? When you're hungry to figure out how to move forward but not sure where to begin. Molly works with you to identify the next steps. She says, "I really believe that if you know how to work with the dynamics of the change process which includes the polarization, loss and resistance, you can then reconstruct your identity and new ways of being that renew an organization. With the right support, you can feel exhilarated and hopeful; you can both see and feel progress which wasn't evident before. This type of work can actually build community within an organization."
In her spare time, Molly loves mountain biking, playing with her dog, Remi, and traveling to wild, ruggedly beautiful places around the world with her partner Mike. WeEvolve works with senior leadership, boards of directors and leadership teams to design, lead and implement change initiatives while increasing commitment, engagement, and investment across the organization. Her services include thought-partnering, coaching, facilitating multistakeholder teams, organizational assessment and strategic design of innovative and change initiatives.
Wondering if WeEvolve is right for your organization? Check out the WeEvolve website for more information or contact Molly Ware at 360-296-3786 or mollynoelleware@gmail.com.