Submitted by: Village Books
A new restaurant will open early this summer on the mezzanine of Village Books and Paper Dreams in Fairhaven. Evolve Chocolate + Café, co-owned by Chef Christy Fox and Shannon Fox, will offer an array of sweets, sips and savories in the cozy space tucked among the book shelves, overlooking the Village Green and Bellingham Bay. When it opens, Evolve Chocolate + Café's hours will match Village Books and Paper Dreams. Grand opening events will be announced.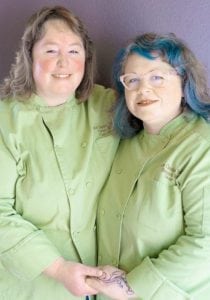 Evolve Chocolate is known for its award-winning truffles, sipping chocolates and unique flavor profiles. The Foxes have sold their small-batch chocolate confections at wine, food and chocolate festivals from Seattle to San Francisco as well as the Bellingham and Edison farmers markets, Washington wineries and at their popular "pop-up" chocolate lounges around Bellingham for the past five years.
Chef Christy Fox's experience goes beyond chocolate; she has a nearly 30-year background working in regional fine dining restaurants. The co-owners with the help of the community have been searching for a permanent home to offer a full sensory experience with a savory menu that highlights regional bounty, handcrafted cocktails and desserts from scratch.
"The Village Books team approached us to see if we were interested in the space. Humbled by their inquiry, we knew immediately that it was Evolve's new home," Shannon Fox says. Christy Fox adds: "Being housed inside Village Books is like being given a big hug with mutual value structure and belief in community."
"When we heard Shannon and Christy's plans for the space and read their proposed menu, it confirmed they are absolutely the right fit," says Village Books co-owner Kelly Evert. "They are designing an experience that will encourage community, celebrate local food and create memories."
Adds co-owner Sarah Hutton, "We have a shared goal to welcome our community to Fairhaven and to encourage conversation inspired by great food and great books. We think our customers are going to love it!"
The Foxes will continue to support both Bellingham Farmers Markets by shopping there for fresh ingredients as well as maintaining a working booth at Saturday market. They'll open a sidewalk café at Village Books' parkside entrance near the Village Green during the Wednesday Fairhaven Market and Saturdays for Fairhaven Outdoor Cinema movies. Special events such as champagne soirees, high tea and author/book-themed dinners will be housed in their private event space. The Foxes will launch a Kickstarter campaign soon so community members can support their café.
While café construction is underway, Village Books owners will re-imagine the rest of the mezzanine level with new areas for writers and events. The bookstore and Evolve are working with the Revision Division at The RE Store to upcycle fixtures, tables and seating.
The Foxes are the fourth owners of the café space in Village Books. When Village Books founders Chuck and Dee Robinson designed the new Village Books, they made sure to incorporate a café where the community could gather. They approached local restaurateurs Fred and Lynn Berman, who created and opened Book Fare Café Oct. 25, 2004, the same day the new Village Books location opened. The Bermans sold Book Fare to Rachel Vasak in 2007. She ran it for two years then passed ownership to Lori Calderhead-Wetzel, who operated the café from 2009 to 2010. Chef Charles Claassen took the reins in late 2010. He is selling the café to pursue other interests.
"With our continued long-term relationship with our neighbor Colophon Café and the exciting new addition of Evolve Chocolate + Café, Village Books and Paper Dreams remains Bellingham's place to feed your mind, body and soul," says co-owner Paul Hanson.
About Evolve Chocolate
Established in 2012 by co-owners/founders Christy Fox and Shannon Fox, Evolve Chocolate has been recognized nationally for its artisan truffles and sipping chocolates. Both have a deep history with food – Christy as a classically trained chef since 1992, and Shannon coming from a French household where life revolved around the kitchen as well as her experience working in the catering industry for many years.
About Village Books & Paper Dreams
Founded in 1980 by Chuck and Dee Robinson and as of 2017 under new ownership and stewardship of Paul Hanson, Kelly Evert, and Sarah Hutton, Village Books and Paper Dreams is a community-based, independent bookstore and gift shop with two locations: the flagship store in the historic Fairhaven district of Bellingham and its second location in the historic Waples Mercantile Building in Lynden.