Pulling up to Roger Jobs Motors in my older, non-luxury car, I wasn't sure what to expect.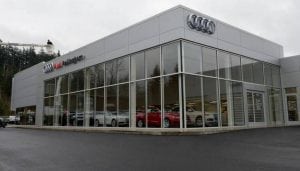 As I parked alongside brand-new models of Audi and Porsche I prayed no one saw me pull in, until I noted that the entire building was made of windows. I walked up to the door, went in and realized: all that stress was for nothing. I was greeted by a friendly, bright and welcoming atmosphere. Every single person acknowledged me with a smile or wave, and no one even mentioned how terrible my parking job was. The excellent customer service along with the delicious espresso quickly offered made me feel right at home.
Roger Jobs strives for this reaction in every customer interaction. His top priority is customer satisfaction, which is one of the reasons he won an Audi Magna Award in 2017. The Audi Magna award was presented to only 101 Audi Dealers in the country and only three in Washington State. Dealers must demonstrate an exceptional level of customer along with strong business performance as determined by Audi – and Roger Jobs Motors has now won it three years in a row.
"We're extremely grateful," Owner Roger Jobs says. "We're going to keep doing what we're doing and keep trying to do it better every year." What sets Roger apart is not only his passion for cars, but also for people.
Roger's commitment to his customers goes as deep as the design of his newly renovated showroom. The interior is a huge open space, with employee desks in sight of the front doors so that every customer is greeted by someone every time.
Manager Travis Graddon – whose desk is perched right in the front of the entrance – says, "The important thing to remember is that every time someone walks through these doors is a first experience. Whether it's their first time here or their hundredth, they're walking in for the first time that day."
And the dealership's interior is just as sleek as the cars it sells; "Every detail matters," Jobs says, "Walking into a car dealership, everyone is going to feel nervous, but I can do my best to make them feel as comfortable as possible."
Roger Jobs Motors has been privately owned longer than any other dealership in Bellingham — besides Diehl Ford, of course. "Diehl's been there for a hundred years," Roger says with a laugh. "He deserves a shout out for that!"
Although 100 years is a tough number to beat, Roger is certainly creating his own legacy. By remaining privately owned, he's able to tirelessly commit to his customers, employees and community. In fact, some of his customers have remained loyal to Roger since he began selling cars in the early 1970's. "I had a guy come in that I sold a car to in 1972 just the other day," says Roger. "I've made some great relationships here over the years."
His employees are in it for the long haul, too. "We had an employee retire after 30 years right here in the showroom. I think the longevity of employees is a testament to how great it is to work for Roger," says manager Kelly McCann.
Besides his commitment to customers and employees, Roger strives to keep his community happy, as well. Last year, through Habitat for Humanity, he donated a house that will be given to a family whose previous home was destroyed by fire in Maple Falls. He also donates to several charities around the county and sponsors a multitude of charity events. Roger takes pride in being able to give back to the community that's helped him become so successful.
Roger's unique philosophy on car sales is what has allowed him to grow, expand and become a three-time Audi Magna Award recipient. Roger Jobs Motors sells new and used Audi, Porsche and Volkswagen and has a service department on site. To learn more about Roger Jobs Motors, visit their website or stop in at 2200 Iowa Street, Bellingham.