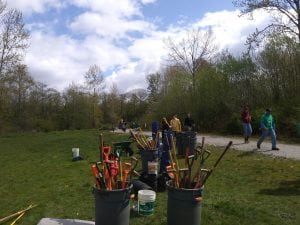 The sun eventually made its entrance on the afternoon of April 21st at Little Squalicum Park in Bellingham – a stark contrast to the early morning weather Bellingham Comcast General Manager Brett Fontes experienced on his way to the Comcast Cares Day work party. Luckily, the overcast skies parted in time for Brett and the Comcast crew to host a successful work party alongside the City of Bellingham's Parks and Recreation, Public Works and Natural Resources Departments.
More than 120 Comcast employees, their family and friends joined 70 people brought out by the City of Bellingham. The day's main goal was to restore riparian areas throughout Little Squalicum Park. Volunteers removed invasive species, such as Himalayan blackberry bushes, laid down fresh mulch and planted new native species.
Folks worked in every area of the park, some trudging through thick underbrush to complete their tasks. Trash cans filled to the brim with tools were situated throughout the park, providing easy access to everyone mulching, planting and pulling out various plant species.
Coincidentally, the Parks Department was doing their Earth Clean Up Day at the same time, so we decided to collaborate with them."
Park Operations Manager for City of Bellingham Steve Janiszewski and his team took the lead on the project. The Parks Department gave Brett a list of tasks to complete and Brett divided them among his volunteer team.
It turns out this wasn't the first time Comcast has worked alongside the City of Bellingham's Parks and Recreation, Public Works and Natural Resources Departments. All of these groups came together for an earlier Comcast Cares Day, five years ago. Brett recalls hauling tons of gravel in order to build trails. Steve chuckles at the thought of Brett carrying heavy bucket loads of gravel, and then stresses the importance Comcast plays in the Bellingham community.
"Our work parties address the many issues these parks have, and in order to complete them we need a lot of people to help," Steve says. "It's great to see them out here working with us."
Just as Steve finishes his sentence, another member of the Earth Day community work party shows up and echoes his sentiment. Analiese Burns is the Habitat and Restoration Manager with the Natural Resources Division of the Bellingham Public Works Department and she couldn't agree more.
"Comcast is very important in helping us finish the work we want to complete," Analiese says. "Collaborating with them is awesome. They bring their employees and their energy, which really helps elevate the work we can do and allows us to get more done."
Simply put: Analiese and Steve were able to tackle such a huge project because Comcast and their extended workforce were there to help.

Throughout the years, Brett and the Comcast team have been to a dozen different clean-up sites, striving to make a big impact.
"We want to give back to the community we serve," Brett says. "Folks that live in this area are our customers, our employees live here and we interact with the Bellingham community on a daily basis. This is just a great day for us."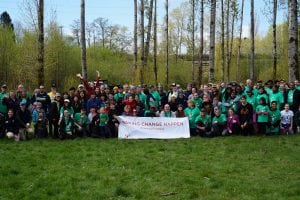 Comcast Cares Day is an all-ages event. Children and parents alike participated in the clean-up and all helped make it a successful outing. Steve says part of that success is attributed to everyone staying safe. Working in the outdoors, and especially removing Himalayan blackberry bushes, calls for proper safety attire.
"We tell people to wear proper clothes, such as gloves, long sleeves and proper protection," Steve says. "Children will become park users in the future and this is a teaching moment for not only the kids, but the parents and the whole community. Everyone can learn together about the best ways to take care of our parks."
Brett nods in agreement as Steve looks over the swathes of volunteers and speaks about the day's successes. "It's amazing we were able to tackle all these projects," Brett says.
The day ends with a group picture taken by a drone mounted with a camera. Following the sleek demonstration of aerial photography, free pizza was given out to all the volunteers who came and helped make the Little Squalicum Park Earth Day community work party a success.