From your first jog to your dream marathon, Fairhaven Runners & Walkers can help. These active lifestyle advisers scour the marketplace to find the right fit for all your adventuring needs.

The process begins with an individualized shoe-fitting experience in Fairhaven. The well-lit, cozy store creates a homey sense of warmth. Before you know it, you're greeted by kind and experienced staff members. "We help you with the whole lifestyle," says store owner Steve Roguski. "We don't think of ourselves as sales people; we think of ourselves as coaches and advisors for you on this path, to get where you want to go."
Fairhaven Runners & Walkers has been in business for almost two decades. Their website offers a plethora of information including a running list of local races and a community reference guide to local running groups and helpful information. Their knowledgeable local team knows the products and the sport. They work with you to accomplish your goals. "The best feather in our cap is the team of people we have in the store," Roguski says. "You're not meeting people that are inexperienced or novice; the opposite is the case. These folks are really into the sport, really love what they do and care about how they do it at Fairhaven Runners."
The team has perfected a four-step process to help each person find the right shoe and gear. This is known as the "4F Process."
Function
Fairhaven Runners & Walkers team members start by asking questions to determine how you plan to use your shoes. They also look at the history of the shoes you're wearing. Examining your old shoe wear patterns and learning of any past injuries helps determine what will work best for you. The team member will watch you walk and analyze your gait – a fancy term for how locomotion is achieved through limb movement. They will also assess your foot type and biomechanics.
Fit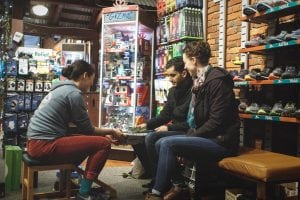 Finding the right fit requires teamwork. Is it comfortable? Do you need special sizing? How do your favorite walking socks feel inside the shoe? Will an insert help when you run? With experience, knowledge, products and patience, Fairhaven Runners & Walkers will help you find the right fit.
Fun
Are you excited by the shoes? Have you been dreaming about bright green footwear forever and here they are – laced up and ready to go? The staff loves to run, climb, walk, jump and, most importantly, make sure you leave with a smile and pep in your step.
Analysis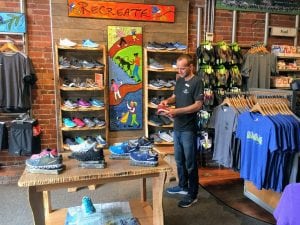 The staff will summarize the features and benefits of the shoe based on your needs and desires. Customers can try the shoes in-store or outside the store. This final check on fit, color and excitement level ensures that you want to wear those new shoes right out the door.
"We love the whole process with everybody," Roguski says. "We've helped people that don't even walk – people in wheelchairs – they just need help with some footwear. We love that. One of the cool things with this store is we pay so much attention to each individual person – what their needs are, how we can help and what kind of issues they might have with their feet – walking or running."
Medical providers often refer clients to Fairhaven Runners & Walkers because of the store's wealth of knowledge. They're a great resource to help you run, walk, move and stand in comfort.
One way they do this is through their partnership with Superfeet. At the Superfeet FitStation, you can 3D print orthotics for your feet. Designed by Superfeet and Hewlett-Packard, this machine will create a 3D scan of your foot and record pressure distribution during the gait cycle. "Seventy-five percent of the population has foot aches or pains and that's just the tip of the iceberg of how we can help," Roguski says.
Superfeet FitStation technology works in combination with the skills of a team who love the sport. Together they will keep you from breaking a sweat when it comes to deciding what's right for you.
And Fairhaven Runners & Walkers helps with more than shoe selection – they're ready to help you traverse the Pacific Northwest and beyond. They offer apparel, maps, medical items, massage products and fuel (also known as snacks) for any escapade.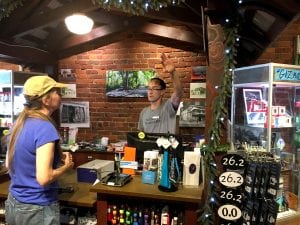 This unique shop caters to anyone interested in moving. They go above and beyond, offering clinics and forums, annual special events, gear discounts and injury prevention screenings every third and fourth Tuesday of the month.
No matter what kind of mover you are – a world-class runner or a walking group newcomer – if you have feet, Fairhaven Runners & Walkers has you covered.
Connect with Fairhaven Runners & Walkers, learn about local running clubs and upcoming races, and discover great product at fairhavenrunners.com.
Sponsored