At 35, Shultzie Willows has already had three careers, spanning the gamut from children's television, to retail, to promoting the humanitarian work of Lydia Place. It may seem a diverse career path, but there is a common thread – community engagement and advocacy.
Born in Maine, Shultzie spent her childhood moving around the country following her mother's job with Georgia Pacific. The family made their final move to Bellingham when Shultzie was 12 years old.
It was in Bellingham that her community-focused career path began with her first high school job with Whatcom County Health and Human Services. Unlike more traditional adolescent employment in restaurants and movie theaters, Shultzie's work had impact; she was the youth development coordinator in the substance abuse department. She loved helping others from the start. "My parents instilled in me a sense of service and helping others," she says. "It was important that things I gave time to, and my work, had purpose."
Shultzie attended Evergreen State College where a random course in PR exposed her to the vast world of telecommunications and broadcasting. She went on to work for PBS and a children's production company in New York – assisting with development and production of beloved programs like Reading Rainbow. After five years in the field and a Masters Degree in Communications, she returned to Bellingham and opened The Paperdoll, a boutique that promoted up and coming designers, paper goods, clothing and unique accessories. She loved her store, and regularly used her platform to give back to the community, but something was missing. "It was that community piece that was part of all the things I'd done before – community enrichment and giving back," she says.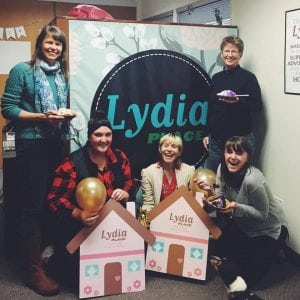 Always a fan of wearing multiple hats, she accepted a position with yoga apparel company lululemon while still balancing her work with Paperdoll. "I loved yoga and yoga clothes as much as I loved art and design, and this seemed to check those boxes." While at lululemon, she began to oversee their community engagement program, focusing on events and classes to increase accessibility to yoga and support local yoga teachers. "Through yoga, there were a lot of ways we could give back to the community," she says. "They [lululmeon] were incredibly supportive and allowed me and the store to promote and champion yoga as a means to create connection and partnership."
Shultzie has a pattern of finding work based on her personal values and passions. This is what led her to Lydia Place. "I wanted community engagement to be my work and not just my volunteer effort," she says. "While on the hunt for something that afforded me this type of opportunity, my mom sent me a job listing at Lydia Place and I applied. I didn't think I had a chance but I was very passionate about wanting to give back."
Lydia Place sensed this passion and brought Shultzie on board as a development assistant supporting their annual auction. With her extensive experience building community engagement and hosting events, it was a natural fit. From there, she took on social media management, events management and fundraising, and eventually became the organization's community engagement director.
She now oversees a team that engages the community in disrupting the cycle of poverty and homelessness here in Whatcom County – for this generation and the next. "Together as a community we can really move the dial and make some permanent and lasting change for local families and individuals," Shultzie says. "There is a large need in our community – whether someone is right on the cusp or have experienced the hopelessness and despair being without a home creates. Having children in unsafe places – cars or tents – it's just not ok – and we MUST act and correct course."
Shultzie recalls a young mother who stayed in transitional housing toward the beginning of her time with the agency. "Her baby was the same age as my daughter," Shultzie says. "I wondered, what's the difference between this person and me? Circumstance? Luck? Resources? I don't know how you can ignore that we are much more similar than we are different."
For Shultzie, Lydia Place's success can be seen in the lives of those it positively impacts. Everyday examples like families that transitioned from cars and tents to stable homes of their own; parents building healthy relationships with their children; mothers and fathers graduating from college and technical programs, securing employment and ultimately seeing families at a stage and place where they are asking, "How can I pay it forward?" These are the pieces that make this work so impactful for Shultzie, and fill the space that was once missing.
2018 will be a landmark year for Lydia Place. The organization is working with private landlords, the city and community to house all waitlisted families by the end of the year. "We've drawn a line in the sand," Shultzie says. "We're excited and optimistic. We want to come to a functional zero around family homelessness by the end of the year. I'm so inspired every day."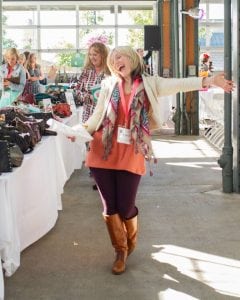 This year is also about stabilization following a period of intense growth. "We want to ensure programs will continue into the future," Shultzie says. "Our goal is to have all families housed, to look at the way the community defines homelessness and move on to addressing those who are on the fringe."
Shultzie's passion extends beyond her work into many other spheres. She is on ReUse Works' board of directors and has curated art for the Honey Salon art gallery for the past five years. She is also collaborating with a local group of artists, educators and dreamers to conceive a permanent interactive play center for children and adults, focusing on science, sensory play and art. "I love art and creative spaces," Shultzie says. "It's wonderful to immerse oneself in beauty and creativity. It's important and necessary."
As vice president of the board of directors for the Downtown Bellingham Project, Shultzie says, "I'm crazy excited and passionate about downtown Bellingham. It's the heart and core of our city and a vibrant demonstration of many aspects of our community working in tandem. We have tons of energy and enthusiasm in the areas of economic development and residential density right now. It's an exciting time for Bellingham as a whole."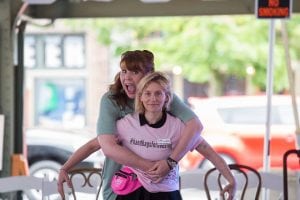 Shultzie enjoys spending time with her family and treasures weekends with her young daughter, Sloan, who will be entering kindergarten this fall. As a working mother who regularly volunteers her time and resources, she is remarkably energetic. "I definitely feel better when I have a lot of irons in the fire," she says. "I like being active and productive, and feeling like my life has a higher purpose and meaning. All this stuff I do feeds that desire. I'm really committed to this idea of being in the seat of wonder and being open to seeing where ideas and partnerships can take us … I ask myself what kind of legacy I'm leaving for the world, for Sloan and what I'm doing to make it a better place. It's a good question to keep asking."
Shultzie draws inspiration from Lydia Place Executive Director Emily O'Connor and her co-workers, the women and men who are working hard on the front lines combating homelessness. She is honored to share their stories with the community. "This is one of the most fulfilling careers I have ever had," Shultzie says. "It's about advocating for those who don't have a voice. There is a lot of inequity in this world and if there is something I can do personally to leverage my skillset for others, I'm going to do that."