I am normally not one for celebrating Valentine's Day. Every year it passes without fanfare. I do not send cards, receive roses or go out for a romantic dinner. I definitely do not wear red. Valentine's Day has never really been important to me. This year, however, was different. The eldest of my three girls celebrates all holidays with gusto and Valentine's Day was no exception. We ate chocolate-covered strawberries. We made heart valentines out of pink construction paper. I even wore red.
I also took my girls on a very special outing to Solstice Senior Living at Bellingham, a stately over-55 community in Fairhaven. Here, the four of us spent the dinner hour chatting with community members and listening to the music of local band Quattro Sax.
As my girls tucked into a cozy corner table in the comfortable foyer with a craft, a sandwich and the attention of the very friendly community concierge, Hannah, I made my way into the dining room. An elegant, spacious area that rivals any upscale restaurant, the dining room was festooned with twinkling lights and banners for this evening's themed dinner event: "That's Amore."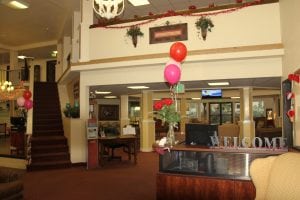 Solstice Senior Living at Bellingham's Vibrant Life activities program offers entertainment and experiences designed to optimize health and provide opportunities for connection, both between community members and with the greater Bellingham area. This evening's offering would include live music and a chef-created menu of delicious dining options.
Vibrant Life activities span a wide range from staff-led games to lectures by area experts. "One of the many things that Solstice is doing well is individualizing the experience," says Denise Irey, Director of Marketing and Sales. "The social opportunities are more directed to the individual as opposed to just sticking things on the calendar."
The Vibrant Life Director invests time in learning about each individual. By understanding each person's special interests, background and personality, events can be tailor-made. This creates richer experiences for all.
Settled in at a table near the front of the room are Sunny Woll and Kenneth Hathaway. They sit close together, elbows nearly touching. There is a bottle of red wine on the table and a half-filled glass sits before of each of them. We introduce ourselves and I say, "May I ask a personal question?" They both nod and I continue, "Are you…"
"Best friends," interjects Sunny, clearing up any possible confusion before it even materializes. Theirs is an envy-inducing friendship. During our conversation, she completes his thoughts and does most of the talking, on her own behalf and Kenneth's, while he snaps photos on his SLR camera. Sunny has lived here 11 years and Kenneth has been here for eight. They both take part in many of the activities and appreciate what a good situation they have. Of the Solstice community, Sunny says, "We are strong and we are friends. We have a community, a healing community."
Right up front, facing the band, sits a rapt Bunny Olson. She has been a community member for a year and a half, ever since her husband Dan passed away. Bunny made the move to Solstice Senior Living mostly because she was uncomfortable driving on her own. "If you don't drive, you don't eat," she says.
At Solstice Senior Living, however, you eat very well. Bunny was dining on lobster ravioli, fresh asparagus and warm garlic bread. There was a soup course, as well, and tiramisu for dessert.
When asked about the activities offered in the Vibrant Life program, Bunny leans in, clasps her hands together excitedly and says, "I never miss a thing! Never. I just love it."
Bunny is busy, active and engaged. She hopped on the Solstice bus earlier in the week for a trip to Birch Bay. This brought fresh air and a change in perspective. These outings give her a connection to her former life and nature, but with the ease and comfort that comes with an all-inclusive, lifestyle-appropriate living arrangement.
Bunny, Kenneth, Sunny and the rest of the residents have the means to live on their own in a house, condo or apartment building. But such a life can be isolating. Loneliness at any age is detrimental to one's health. Solstice Senior Living at Bellingham is an instant community. On my first visit, I sensed a college-campus vibe. But Denise Irey puts it much better. "Solstice is like a cruise ship that never leaves port," she says. "If you want to interact and engage with the other members, the Vibrant Life Director is there to make those opportunities happen. If you crave alone time in your cabin, that is always a possibility too."
With the Vibrant Life program, a strong community and top-notch dining, Solstice Senior Living is an ideal place to live life to the fullest.
Sponsored