It wasn't as if Payton Stroud of White River held just one victory over Girls United Wrestling's Lynette Samano this season. One defeat would be easy for anyone to disregard and give it another go. Stroud and Samano had wrestled three previous times during the season. Stroud won every meeting.

"They've wrestled three times and Stroud hasn't just beat her three times," said Girls United Wrestling Coach Brian Porteus, "she's pinned her three times."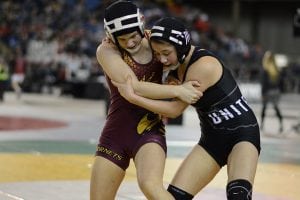 A fourth and final matchup was slated for the 120-pound girls' state championship at Mat Classic XXX on February 17 at the Tacoma Dome.
It would have been easy for Samano, a senior at Bellingham who takes courses at Whatcom Community College, to simply be satisfied with making the state finals.
By merely advancing to the championship round she had already made history for Girls United Wrestling, which is the joint girls' wrestling program representing athletes from Bellingham, Sehome and Squalicum.
No Girls United wrestler had ever done that before.
Samano took it a step further though, becoming the program's first ever state champion following a 3-2 upset victory over Stroud.
"She was ready today," a beaming Porteus said following Samano's victory. "She was nothing short of incredible."
She certainly was. Winning a state championship is hard enough without having to face someone who had your number the entire year.
"I just tried to stay positive (coming into the match)," Samano said. "I just continued to believe that I can do it. I know I prepared myself really hard. All those sprints, all those long days, it worked out. It was definitely worth it."
Trailing 2-1 in the early stages of the third, Samano knotted up the score on an escape, however, the point never made its way to the scoreboard.
Unaffected by the potential miscue, Samano continued to wrestle, looking for the equalizer.
"I don't look at the points," Samano said after the match. "I just try to wrestle my hardest. Everything happens for a reason. I didn't look at the points at all. I just wanted to keep going."
Porteus signaled to the officials for the point to be recognized for quite some time, eventually believing that the mistake would be corrected.
As this happened, the time during regulation began to tick down. Stroud was issued a warning for stalling with less than a minute remaining. Towards the end of the match, a second call for stalling was issued, resulting in a point for Samano, and, ultimately, a state championship.
"(The officials) made the right call. They even said they awarded the (escape) point too late but knowing that the point was on the board and knowing that the score was tied, I didn't want (Samano) to stop wrestling," Porteus said. "I just wanted her to go. I was waiting for a re-start and figured if we got a re-start I would go over to the table and they would fix the score."
Confusion followed at the end of the match as both parties weren't sure of the outcome. After the referees and match officials met for several minutes, both points were awarded to Samano.
Samano, who placed sixth last year at 125 while attending Nooksack Valley, entered the state tournament ranked fifth in the weight division. She knocked off third-ranked Ashlyn Morris of Olympic, 6-2, in the quarterfinals and pinned sixth-ranked Taylor Robbins (3:38) in the semifinals before facing the top-ranked Stroud.
"It's hard to describe the ride that we have been on," Porteus said. "Lynette kind of fell into our laps. She came with a ton of experience and we just helped her try to get better. We cared for her a ton and took care of her as a human being, and loved her and here she is – a state champion."
Samano, who is on the dean's list at Whatcom Community College, initially had some difficulties describing her history-making state run for Girls United Wrestling.
"Honestly, I don't know how it feels right now. I'm just kind of hungry. After cutting weight, all I want to do is eat," Samano said with a smile. "I just want more girls to come in and love the sport. Love the sport and give it your all, that's what matters."
While Girls United Wrestling is looking to build some tradition, Shelby Sears and Ebonney Bowhay added to Mount Baker's impressive list of accomplishments. Sears, a junior, finished sixth at 190 and Bowhay, a freshman, picked up a sixth-place medal at 125, marking the 12th consecutive season the Mountaineers have placed multiple wrestlers in the girls' tournament.