Have you been outside enjoying our local parks this summer? Those of us who live and play in Whatcom County value our time outdoors but sometimes we forget all of the work that goes into making that time possible.
If you've spent time walking your dog, having a picnic or flying a kite this summer, there's a good chance you took advantage of one of the many beautiful spaces maintained by the Port of Bellingham and their small and mighty maintenance crew.
The Port of Bellingham Park System's 14 designated parks total more than 22 acres of public space:
Fairhaven Marine Park

The dedicated maintenence crew makes the Port of Bellingham's parks shine. Photo courtesy: Port of Bellingham.

Tom Glenn Commons
Marine Life Center
Squalicum Promenade
Zuanich Point Park
Commercial Fleet Interpretive Center
Cow Beach
Little Squalicum Beach
Marine Drive Trail
Blaine Seafarers Memorial Park
Blaine Promenade
Blaine Public Fishing Pier
Lone Tree Park
Airport Viewpoint Park
Port parks include picnic areas, kite flying opportunities, playgrounds, walking, biking and rollerblading trails, viewpoints, beaches, interpretive areas and fantastic perennial gardens. Plus the Port plants approximately 800 bulbs per year, as well as 3,500 annual flowers.
"I think it's surprising to many people that we maintain 14 designated parks," shared Port of Bellingham Maintenance Manager, Carol Williams. "There's a lot of work that happens on a daily basis to maintain all the space. If you're out walking on the promenade by the Bellwether or Squalicum Harbor, you might not think about what it takes to maintain that."
In fact, the Port employs five full time maintenance technicians and an average of 16 seasonal employees to care for their parks and other properties. "Not only do they care for the parks, but also all of the Port owned real estate properties along the waterfront," shared Williams. In addition, that small crew maintains the grounds at Bellingham International Airport, the Amtrak Station and more. In short – it's a lot of space.
"Just the Downtown Waterfront alone is 237 acres," explained Williams. The landscaping, beautification and sign maintenance of these many spaces is all provided by the Port's maintenance team. The Port of Bellingham has received numerous Whatcom County in Bloom awards, as well as the Gold Leaf Award, recognizing the outstanding beautification efforts throughout the Port properties.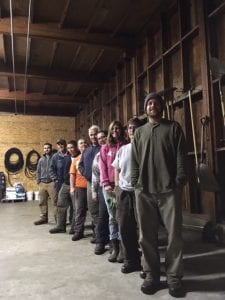 But you might not realize that you may have a personal connection to the Port of Bellingham because of the many big milestone events that are hosted at their properties. "Five hundred events a year go through our public facilities, just for people's personal events," shared Meetings and Events Supervisor, Tiffany DeSimone. That's thousands of people attending hundreds of graduation parties, celebrations of life, bar mitzvahs, weddings and retirement parties annually.
"An average of 145,000 people a year use those public spaces, which doesn't include the public parks where people take their dogs for a walk or to fly a kite," continued DeSimone. The Port is thankful for the community's support and use of the parks and facilities."
Not to mention all of the public events that happen across the Port of Bellingham Park System, such as Ski to Sea, Bellingham Traverse, Bellingham SeaFeast, Haggen Family 4th of July and countless fundraisers and benefit walks. All of this is possible thanks to a dedicated group of local port employees who take great pride in making sure these areas are safe and well-kept for people to enjoy.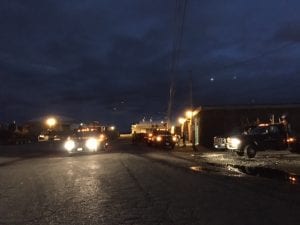 "The small but mighty staff live locally and are invested in the community," said DeSimone about the maintenance crew. "These people really care about the facilities and that community members get to use them. They are raising their children here and working for the greater good. They help make Bellingham an exceptional place to live, work and play."
Sponsored