Tranquil, serene, calm. These are just a few of the adjectives that come to mind upon entering Lindsay Johnson's Mount Baker Massage studio. The cooling colors of green and blue cover the massage room and are prevalent throughout the space. Pleasant smells emit from strategically placed candles and the lingering aromas of essential oils. The room is comfortable. The room is inviting. This is a place for relaxing, healing and re-calibrating.
A 2009 graduate of the Cortiva Institute in Seattle, Lindsay has been a licensed massage therapist for nearly ten years, but it wasn't until September 2017 that she would open her first practice. Lindsay found work with various chiropractic and massage clinics until opting to open her own business. It took her some time to decide that this would be best for her. Moving to Bellingham four years ago to further her education at Western Washington University, Lindsay enters her final year of school and the first year of her practice simultaneously.
"I just thought it was time I went out on my own," Lindsay says when asked about the decision to open Mount Baker Massage. "I'd thought about it multiple times. But right now, at this point in my life, everything just added up."
Lindsay says she fell in love with the idea of working for herself and being able to practice massage therapy the way she wanted to. By opening her own massage studio she would now be able to treat each client to the best of her ability. Her own studio gave her the freedom to incorporate all of the different modalities she is trained in – she could now offer a massage experience that would both heal and relax the client.
"My clients have told me I strike a good balance between providing deep effective treatment and maintaining relaxation," Lindsay says. "I would say this is what sets me apart from other massage practitioners."
Having been in practice for only a month, you would think establishing an initial clientele would be a problem. But Lindsay has found the residents of Bellingham to be strongly community-oriented. She says people here are much more willing to trust a small and local business than in other parts of the country where she has lived. The name of the practice itself is indicative of Bellingham and sure to strike a chord with locals looking for a massage. Lindsay attributes choosing the name Mount Baker Massage to her affinity for the mountains and wild spaces.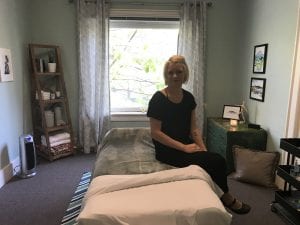 "Bellingham is such a locally-minded town," she says. "People have a great sense of community here and they want to work with a person not a corporation. It's the perfect place to grow my practice."
Lindsay says there still has been a learning process involved when opening her massage studio. There are many facets she now has to deal with as the sole proprietor and owner of her massage clinic. Advertising, marketing and insurance are just a few of the uncharted territories Lindsay is now stepping into. She prefers to market the old-fashioned way, using word-of-mouth, but realizes she also has to step into the online marketing world.
She says at Mount Baker Massage it is all about treating clients with respect. She wants to create a unique massage experience for her clients they can't get anywhere else. Couple her prowess as a massage practitioner with the calming feng shui of her massage room and you're sure to be transported to a healing place all its own.
Lindsay is trained in Swedish, neuromuscular, myofascial, prenatal, relaxation and sports massage modalities. Mount Baker Massage offers two different massage sessions each coming with its own name and price. The Shuksan is an hour-long massage that focuses on decreasing stress, increasing your flexibility and addressing muscle pain. Lindsay also offers some more pampering with the Mount Baker massage treatment. This treatment focuses on the same areas as The Shuksan but gives an added 30 minutes of massage.
The college discount is something Lindsay can relate to, as she is a student herself. She understands how money can be tight when studying in college, but believes everyone should have the opportunity to get a massage.
"It's important to take care of yourself, and adding massage into your health routine is a great way to do that," she adds. "I think on average people should get a massage once a month for regular maintenance on their body."
Mount Baker Massage is located at 115 W. Magnolia St. #204 in Bellingham. Lindsay's massage studio is open Monday through Friday from 9:00 a.m. to 8:00 p.m.