This is the 23rd year of Industrial Credit Union's Feed the Need Community Food Drive, marked by the return of its popular Food Truck Round Up kickoff event on September 30. Feed the Need is Whatcom County's largest food drive benefitting over a dozen food banks throughout the county.
Fighting Hunger at Local Food Banks
A staggering 41 percent of Whatcom County households are unable to afford basic needs. That's over 87,000 people – roughly the population of Bellingham – who are unable to make ends meet. This year Industrial Credit Union's goal is to raise $150,000 to support our many friends and neighbors who rely on local food banks for food security.
And the need is great: Local food banks feed 3,500 hungry families across Whatcom County every single week. According to the Bellingham Food Bank:
1 in 5 Whatcom County households now regularly use a food bank
35 percent of food bank recipients are children
44 percent of food bank households have at least one working family member
52 percent of food bank recipients have some college education
Nearly 20 percent of Bellingham's residents regularly visit the food bank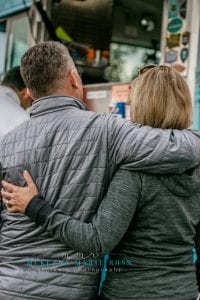 The Bellingham Food Bank is a hub for our region, feeding hungry families throughout Whatcom County. Each year, their warehouse receives, stores and redistributes more than two million pounds of food to their partners across the region. That's enough food to fill up five semi-trucks every single month!
Most towns in our region have food banks – Lynden, Everson and Ferndale to name a few – and all of them need our support. In fact, there is a network of nearly 20 food bank and meal programs in Whatcom and San Juan Counties, and Bellingham Food Bank helps all of them feed their neighbors as well.
Feed the Need Food Drive
What began as Industrial Credit Union's small food drive in 1994 has grown to Whatcom County's largest food drive of the year. Since its inception, the Feed the Need Community Food Drive has resulted in over 30,000 volunteer hours donated, over 2.7 million pounds of food collected and over $500,000 raised, resulting in approximately 15 million meals.
You can be part of this incredibly impactful effort by donating money or food at Industrial Credit Union branches and Whatcom County Haggen Food & Pharmacy stores from October 2 – 6, or by eating delicious local food at the Food Truck Round Up!
5th Annual Food Truck Round Up
Industrial Credit Union's benefit for Whatcom County Food Banks returns to Civic Stadium on Saturday, September 30, 2017 from 11:00 a.m. to 3:00 p.m. The Food Truck Round Up features 25 local food trucks, a beer garden serving Kulshan Brewing Co. beer and live music by SpaceBand. This family-friendly event is a fun way to try food from local mobile eateries while supporting over a dozen food banks serving all areas of Whatcom County.
Tickets for the Food Truck Round Up are on sale now at Industrial Credit Union locations for just $7 per person and entry is free for children under 12. Attendees purchase Truck Bucks – the event currency – to make purchases at the food trucks, beer garden and merchandise area. Don't forget: Kids under 12 receive free entry to the event, but still need Truck Bucks to purchase food.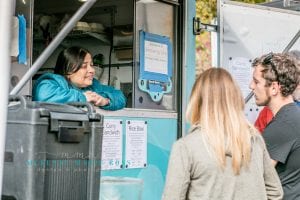 Truck Bucks Tips
Industrial CU recommends that folks purchase tickets and Truck Bucks ahead of time to ensure entry and avoid long lines on the day of the event. But how many Truck Bucks should you plan on buying? Well, that depends on how much you think you're likely to eat and drink. Most food trucks have entrees between $6 and $10, with sides or small plates in the $1 to $5 range. Beers are $4 each in the beer garden. An $8 entree, a $4 side and 2 beers would mean budgeting $20 in Truck Bucks. Yum!
Any unused Truck Bucks can be donated to benefit Whatcom County Food Banks or you can turn them in for a refund when you leave the event.
Grab your tickets and Truck Bucks and head to Industrial Credit Union's Feed the Need Food Truck Round Up  Saturday, September 30 from 11:00 a.m. – 3:00 p.m. at the Civic Stadium Parking Lot (1445 Puget St in Bellingham). You'll find 25 food trucks, a beer garden, live music, family activities and a great community atmosphere. Money raised at this event will be divided among all Whatcom County food banks. For a list of food banks in our area, please click here.
Sponsored