Tucked away against the rolling, pastoral backdrop of north Whatcom County, Atwood Ales is Blaine's first brewery. The unique setting offered by the 100 year old farmhouse, barn and the surrounding acreage, provides countless opportunities to incorporate estate and locally grown ingredients into their small batch beers. The family owned and operated farm and brewery produces a variety of ales, many inspired by the traditional farmhouse beers of Belgium, northern France and western Germany.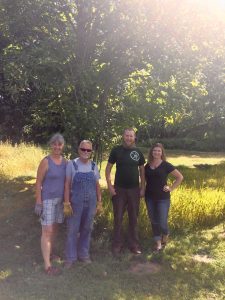 "Beer was brewed for farmworkers and for farmers," shared Atwood Ales Co-Owner and Director of Sales and Marketing, Monica Smith. Farmhouse ales have a long tradition of offering refreshment as well as acting as a type of currency to be traded with other farmers and merchants. "It was something to quench their thirst, but it was also often better than drinking water because the water wasn't really safe in many places."
The beer was being produced with fruits and grains grown on or near the farms, so it was essentially growing up side by side with the food. Because of this, farmhouse beers are made to be enjoyed with delicious meals.
"We're going back to the tradition of beer and food," Monica shared. When we think of food and beverage pairings, the first thing that comes to mind for many of us is wine. But Monica and her husband – Atwood Ales Co-Owner and Brewer, Josh Smith – are passionate about reviving the long tradition of food being thoughtfully paired with beer.
"It's where our hearts and our minds are," Monica explained. "Wine and food have been around forever and so has beer and food but not so much in this area, and not so much in the United States." If you've gone out for dinner recently, you've probably noticed the lengthy wine lists with pairing notes but beer rarely gets the same attention.
"If you look at beer menus when you go into restaurants and compare them to the wine and champagne menus, or the spirits menus, it doesn't even match up," Monica continued. "Because of the flavors and the style of beer that we brew, it really compliments the food by accentuating the flavors. We see ourselves having bottles available in restaurants and doing dinner pairings." They've begun this crusade by working with local restaurants to offer special pairing meals inspired by their beers. "We really want to change people's minds about beer," she said.
Although there are now a number of breweries producing "farmhouse style" beers in North America, Atwood Ales is one of only a handful of rural, agricultural, farmhouse breweries keeping the tradition alive. A majority of the hops, fruit, vegetables, herbs and other products they use are grown, harvested and processed right on their farm. Also they are using 80 percent Skagit Valley Malting for grain needs as well as some imported varieties.
The small scale of their brewery, combined with the seasonal flavors provided by their crops, help Atwood Ales craft unique artisan brews that stand out, even in an area swimming in delicious locally made beer like we are in Whatcom County. From their Dark Harbor Oyster Stout (using whole bivalves from Drayton Harbor Oyster Company) to the seasonally rotating Mo's Saison (one recent iteration featured nasturtium flowers), Atwood Ales celebrates the bounty of their farm and the surrounding natural landscape with every bottle.
And because their batches are smaller than most breweries, Atwood Ales can afford to be a bit more experimental without fearing a huge loss if things don't go their way.
"We're able to take risks on things and it's not a huge loss if it doesn't work out," explained Josh. "It's still a loss, but if one batch doesn't turn out we're dumping two barrels of beer instead of 10, 20 or 30 barrels. Or if something is good but it doesn't move really well, we're only trying to move 26 cases of it as opposed to hundreds of cases."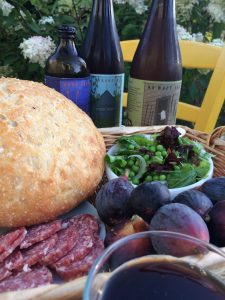 And this scrappy, experimental effort truly is a family affair. Josh's parents, Stephen and Leslee Smith, are brewery co-owners, plus his dad manages the farm that produces many of the fresh ingredients Atwood uses in its beers. The whole family – including their teenage son, Xavier, and Monica's parents, Steve and Nancy Felmley – help bottle and package beer and represent the brewery at the Bellingham Farmers Market. Plus Xavier has the important job of naming some of the beers.
"'No Whey Bro' is one of mine," he shared.
"It takes everyone to do this," said Monica. "We're keeping it small and unique. These bottles are handled many times by each of us. There's a lot of love in these bottles that are going out to people!"
You can find (and sample) delicious beers by Atwood Ales at Bellingham Farmers Market every Saturday, as well as many retail and restaurant locations in Whatcom County and beyond. Follow them on Facebook and Twitter or subscribe to their quarterly email list to be the first to know about special events like beer pairing dinners, tours and helping with the hop harvest.
Sponsored