Since they opened their doors in 1970, Community Food Co-op has been committed to fostering cooperation, mutual respect, good food and a business based on people, not profit. Over the years their passion for offering natural, wholesome foods to our community has deepened to a desire to offer local products and support local growers and suppliers.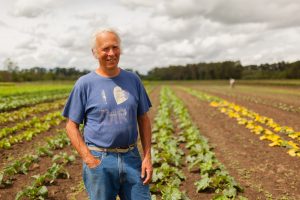 "So many people define local in so many different ways," shared Community Food Co-op's Outreach Manager, Adrienne Renz. "We define local as a place a farmer could easily commute to and back from in the same day." This area includes Whatcom, Skagit, Snohomish, San Juan and Island Counties.
Sustainable Connections' Eat Local First for Business encourages businesses to source their ingredients locally, with a goal of making sure at least 10 percent of the food we eat is grown here. Nearly 12 percent of Community Food Co-op's products are local and 13.5 percent of their products are grown or made in Washington. In fact, Community Food Co-op supports the Washington State economy by spending nearly $3,000,000 annually on products made or grown here.
In addition to offering locally and regionally grown products to their customers, Community Food Co-op is working to help develop and strengthen local farms to increase their capability to feed our community – and beyond.
Developing Local Growers
Community Food Co-op is committed to being a cornerstone of the local food economy, ensuring that our community and region is capable of feeding itself. Collaborating in local food system development is one of Community Food Co-op's six core goals in their 10-year strategic plan. To meet this goal they:
Commit energy and resources to developing a vibrant, economically viable business network that grows, processes, manufactures and distributes food in our region.
Invest capital in local and regional natural-food enterprise.
Foster the development of local, regional, fair trade, organic and cooperatively owned businesses.
The Farm Fund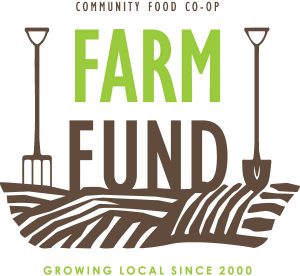 The Farm Fund, run by a Community Food Co-op staff member and a volunteer committee of member-owners connected to the farming community, is a unique and powerful way to meet the needs of beginning and small farm businesses as our community works toward developing strong, local food systems.
Farmers generally begin by bringing their goods to a farmers market or offering a Community Supported Agriculture (CSA) share. The next step is often approaching their local co-op as farmers look to grow and expand their reach. But moving into a wholesale market can be tricky business.
Whatcom County's small farmers have reported two main barriers to competing in the wholesale market: Access to capital for equipment, land or infrastructure, and a need for resources to navigate the various processes and learning curves related to business growth and expansion into new markets.
Since its inception in 2000, The Farm Fund has helped small farms overcome such barriers by providing more than $245,000 to over 50 food and farming projects through grants, loans, scholarships and other emergency funds. And farmers can receive support navigating the challenges of running a business with important coaching from Sustainable Connections.
"We have a great opportunity in Whatcom County for local agriculture with our climate, so we want to make sure we maintain and sustain local growers," shared Renz. "Beyond selling local agriculture in the stores, the Farm Fund is really how we drive supporting local agriculture in the community."
Plus, according to Renz, the Farm Fund grants and loans can give farmers the much needed capital to test and try new things and share that knowledge with the farming community. "They're encouraging farmers to be entrepreneurial and try new things without the high level of risk," Renz said.
Eat Local Month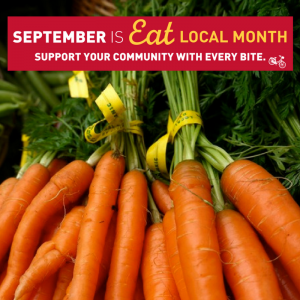 September is Eat Local Month and Community Food Co-op has partnered with Sustainable Connections on many activities connecting our community to our food.
Kick off Eat Local Month at the Farm Fund Hootenanny at Boundary Bay Brewery (1107 Railroad Avenue, Bellingham) on Sunday September 3. You can help strengthen local, sustainable agriculture and local food access at this Farm Fund fundraiser and all-around good time. The Hootenanny embodies the tradition of gathering together to celebrate a successful harvest season with live music, dance, camaraderie, local farmer awards, delicious food and a whole lot of fun!
The Hootenanny is also great place to get a schedule of all the Eat Local Month events such as Whatcom Food Fest, Whatcom Farm Tour, Market Week, Seafood Week and Restaurant Week.
Find loads of locally grown and produced products at either of the Community Food Co-op's two grocery locations:
Community Food Co-op Downtown Store
1220 N. Forest Street
Bellingham
Community Food Co-op Cordata Store
315 Westerly Road
Bellingham
Sponsored