After our dark, damp winters, Whatcom County residents flock outdoors once the sunbreaks turn to partly cloudy days – no matter how cold it is outside. But in a climate unaccustomed to air conditioning in every house, folks start to search for ways to cool back down as the weather starts to heat up. What better way to beat those hot and humid days than a delicious frozen treat?
Check out the links to each spot below to find ice cream, frozen yogurt, popsicles, ice cream sandwiches and a whole host of other delicious ways to cool off just about anywhere in Whatcom County.
Mallard Ice Cream (Downtown Bellingham)
Mallard Ice Cream has been serving up unique and delicious ice cream in Downtown Bellingham since 1998. Their ice cream is made by hand in salt and ice churns five gallons at a time, tasting and adjusting at every step to get the best end product. Their wide variety of unique permanent and rotating flavors of ice cream and non-dairy sorbet will delight anyone's palate.
Acme Ice Cream (Acme, Downtown Bellingham, Fairhaven)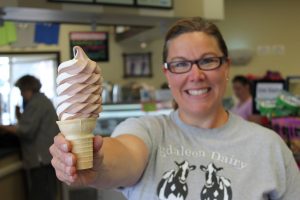 Acme Ice Cream is made with lots of cream and has no added air. The resulting treat has a unique, thick and taffy-like texture. Plus they use only fresh, hormone-free, local milk from right here in Whatcom County. They make more than a dozen flavors including classic offerings such as Vanilla Bean or Butter Pecan, available all the time, and festive seasonal flavors like Blueberries 'n Cream or Eggnog depending on the time of year.
You can find Acme Ice Cream at countless locations all across Whatcom County, but their flagship stores are the Acme Diner and Rocket Donuts & Acme Ice Cream in Fairhaven and Downtown Bellingham. Who says you don't need ice cream with your donuts?
Edaleen Dairy (Blaine, Ferndale, Lynden, Sumas)
A local staple for more than 30 years, Edaleen Dairy serves up their delicious ice cream at five Whatcom County locations. Bring their locally made ice cream home and serve with fresh berries for the perfect summertime treat.
Sugar Shack Ice Cream Truck (Mobile)
If you're anything like me, the telltale jingle of an ice cream truck is enough to make you drop everything you're doing and run outside. Sugar Shack Ice Cream Truck has been bringing summertime joy to kids of all ages in Whatcom County since 2005. Classic offerings like ice cream sandwiches, popsicles and cones are the perfect cool treats for a hot day.
Sugar Shack regularly announces their location on their Facebook Page, or you can request a visit using the Ice Cream Please App.
Sirena Gelato (Fairhaven)
Sirena Gelato makes delicious, melt-in-your mouth gelato in the heart of downtown Bellingham. Sirena makes non-dairy, fresh fruit sorbets and dairy-based gelatos with exotic ingredients such as organic Turkish hazelnuts, premium black cocoa and Thai coconut milk. They also create affogatos (espresso poured over gelato – yum), gelato cookie sandwiches with festive rainbow sprinkles, milkshakes, custom cakes and gourmet made-from-scratch popsicles.
Lafeen's Family Pride Donuts and Ice Cream
This old school shop in Bellingham's Silver Beach neighborhood is a donut go-to for many, but you can also find a rotating selection of tasty ice cream. Need a scoop of nostalgia? There's a very good chance you'll find bubblegum ice cream tucked in the freezer at Lafeen's.
Menchie's Frozen Yogurt
If you're in the mood for a truly customizable cup or cone, stop by one of two Menchie's Frozen Yogurt locations in Bellingham at Bakerview Road and Lakeway Center. Their wide selection of rotating frozen yogurts and dozens of topping options ranging from the fruity to the chocolatey means everyone can make a mix that will leave them smiling.
West Coast Pops (Mobile)
West Coast Pops offers gourmet, all natural popsicles handmade with fresh ingredients in Bellingham. With more than a dozen flavors ranging from classics like Orange cream to unique Watermelon Mint or Banana Pudding, you're sure to find something to suit your taste buds.
There are so many options! I guess you'll have to get started on taste testing … For science, of course.