Submitted by: Village Books 
Acclaimed chef Jenn Louis visits Village Books in Fairhaven Wednesday, Aug. 23 for two events in support of her new cookbook, The Book of Greens.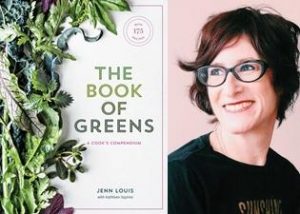 Louis will demonstrate recipes from the book at 4:00 p.m. at the Bellingham Farmers Wednesday Market on the Village Green directly behind Village Books. Then, at 7:00 p.m., the Portland-based chef will discuss her book at Village Books' Readings Gallery. Both events are free and open to the public.
Louis' encyclopedic reference to the world of greens has more than 175 creative recipes for every meal of the day. For any home cook who is stuck in a "three-green rut"—who wants to cook healthy, delicious, vegetable-focused meals, but is tired of predictable salads with kale, lettuce, cabbage, and the other usual suspects—The Book of Greens has the solution. Chef Louis has compiled more than 175 recipes for simple, show-stopping fare, from snacks to soups to mains (and even breakfast and dessert) that will inspire you to reach for new greens at the farmers' market, or use your old standbys in totally fresh ways. Organized alphabetically by green, each entry features information on seasonality, nutrition, and prep and storage tips, along with recipes like Grilled Cabbage with Miso and Lime, Radish Greens and Mango Smoothie, and Pasta Dough with Tomato Leaves.
Jenn Louis is executive chef and owner of the celebrated Portland restaurant Lincoln. In 2012, her soulful, seasonally focused cooking earned her recognition as a Best New Chef by Food & Wine magazine. She is a two-time semifinalist for the James Beard Award for Best Chef: Northwest and she competed on season five of Bravo's Top Chef Masters.
About the book: Can't make it to the event? No problem! You can pre-pay and receive a signed, personalized copy of The Book of Greens. We ship!
The Book of Greens: A Cook's Compendium of 40 Varieties, from Arugula to Watercress, with More Than 175 Recipes (Hardcover)
By Jenn Louis, Kathleen Squires
$35.00
ISBN: 9781607749844
Availability: On Our Shelves Now
Published: Ten Speed Press – April 11th, 2017
About Village Books & Paper Dreams: Founded in 1980 by Chuck and Dee Robinson and as of 2017 under new ownership and stewardship of Paul Hanson, Kelly Evert and Sarah Hutton, Village Books and Paper Dreams is a community-based, independent bookstore and gift shop with two locations: the flagship store in the historic Fairhaven district of Bellingham, WA, and its second location in the historic Waples Mercantile Building in Lynden, WA. Village Books has received many awards, including multiple Mayor's Arts Awards, the Tourism Business of the Year by the members of the Convention and Visitors Bureau, and was recently named one of five finalists for the Publishers Weekly Bookstore of the Year. The store was also honored as the 2008 Outstanding Philanthropic Small Business in Washington state. Village Books' mission is "building community, one book at a time," which its dedicated staff does daily through a dedicated staff, by collaborating with numerous community organizations and through its Literature Live author event series, through which it hosts over 350 authors each year.