Submitted by: Village Books
Hear Newberry Award winner and New York Times bestselling author Kwame Alexander read from his new Young Adult (YA) novel Solo at a 7:00 p.m., Monday, Aug. 21 Literature Live event at Village Books in Fairhaven. Adding to the fun, audience members will help Alexander celebrate his birthday, which is the same day.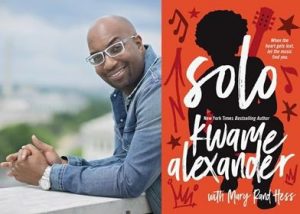 Solo, a YA novel written with Mary Rand Hess in poetic verse, tells the story of 17-year-old Blade Morrison, whose life is bombarded with scathing tabloids and a father struggling with just about every addiction under the sun – including a desperate desire to make a comeback. Haunted by memories of his mother and his family's ruin, Blade's only hope is in the forbidden love of his girlfriend. But when he discovers a deeply protected family secret, Blade sets out on a journey across the globe that will change everything he thought to be true. With his signature intricacy, intimacy and poetic style, Alexander explores what it means to finally come home.
Kwame Alexander is a poet, educator and the New York Times bestselling author of 24 books, including The Crossover, which received the 2015 John Newbery Medal for the Most Distinguished Contribution to American Literature for Children, the Coretta Scott King Author Award Honor, The NCTE Charlotte Huck Honor, the Lee Bennett Hopkins Poetry Award and the Paterson Poetry Prize. Alexander writes for children of all ages. Some of his other works include The Playbook: 52 Rules to Help You Aim, Shoot, and Score in this Game of Life; the picture books, Animal Ark, Out of Wonder and Surf's Up; and novels Booked and He Said, She Said.
Can't make it to the event? No problem! Pre-pay and receive a signed, personalized copy of Solo. Village Books ships!
Solo (Hardcover)
By Kwame Alexander, Mary Rand Hess
$17.99
ISBN: 9780310761839
Availability: On Our Shelves Now
Published: Blink – August 1, 2017
About Village Books & Paper Dreams: Founded in 1980 by Chuck and Dee Robinson and as of 2017 under new ownership and stewardship of Paul Hanson, Kelly Evert and Sarah Hutton, Village Books and Paper Dreams is a community-based, independent bookstore and gift shop with two locations: the flagship store in the historic Fairhaven district of Bellingham and its second location in the historic Waples Mercantile Building in Lynden. Village Books has received many awards, including multiple Mayor's Arts Awards, the Tourism Business of the Year by the members of the Convention and Visitors Bureau, and was recently named one of five finalists for the Publishers Weekly Bookstore of the Year. The store was also honored as the 2008 Outstanding Philanthropic Small Business in Washington State. Village Books' mission is, "building community, one book at a time," which its dedicated staff does daily through a dedicated staff, by collaborating with numerous community organizations and through its Literature Live author event series, through which it hosts over 350 authors each year.