One gray day this past winter, as the sun traveled low in the sky on its way to setting, my four-year-old daughter dreamed of one of her favorite parts of summer. We were driving along a country road, her sisters snoozing on either side of her, when she drowsily, wistfully said, "Mom, when is the fair?"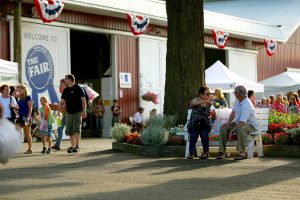 Just like me, my daughter is a fair girl. The rides and games, the animals, the food on sticks – pretty much everything the fair has to offer, she likes and, apparently, dreams about all year long.
Well, we are now rapidly approaching fair season. And for my family, that means a trip to Lynden for the Northwest Washington Fair. We all have our favorite aspects. My husband heads to the swine barn, looking to learn as much as possible about the prize pigs by chatting with the farmers who raise them. For my girls, it's a three-way tie between the Small Animal Experience, the Ferris wheel and cotton candy. For me, it's watching the 4-H kids. I love seeing the pride and concentration that comes through while they show their animals. I love their values and politeness. These kids seem like they are from a different time. A simpler time. And maybe that is what the fair is to me. A step into a simpler time.
For Jim Baron, manager of the Northwest Washington Fair, the best thing about the fair is, "the tremendous variety of events." There are 35 departments, each offering different displays of knowledge and interests such as fine art and woodworking, photography and beekeeping, to name a few. Jim tells me that, for him, the fair is, "a place where friends gather and people come together to form a community." Teenagers mill about on the midway. Grandparents show off their homegrown produce and homemade pies. Parents lead their kids on a fascinating field trip to learn about where their food comes from. And everyone sits down together in the grandstand to watch a show.
There are certain things we expect from the fair. Things that keep us coming back, that we want to stay the same forever. And there are new additions every year that are destined to become favorites.
New to the Northwest Washington Fair this year is X-Treme AirDogs, which is a competitive Dock Diving national championship series that combines first-time competitors with elite "Rock Star" K-9 handler teams in five divisions and four sports. According to the X-Treme AirDogs website, "Anyone with a dog and a ball can compete from first timers to seasoned pros." If you have a dog that loves toys and water, be sure to visit the X-Treme AirDogs training location at the Northwest Washington Fair. Here, one of the highly-trained staff will help you participate in the event.
Back by very popular demand this year is the Wenatchee Youth Circus. Known as the, "Biggest Little Circus in the World," WYC is a non-professional group performing professional-quality feats including high-wire, flying trapeze, fire acts and aerial acts. The WYC has traveled the Pacific Northwest for over 60 years, performing for crowds large and small. The members practice year round to perfect their craft in order to awe their audiences.
And there is a new aspect to a long-standing fair favorite. This year admission for kids under 10 is free for the Lynden PRCA Rodeo, a family event that has been a huge draw for over a decade. People pack the stands, captivated by both the roughstock events—bareback riding, saddle bronc riding and bull riding—and the timed events—steer wrestling, team roping, tie-down roping and barrel racing.
Ultimately, what keeps me returning to the NW WA Fair every year is a combination of new and old. I want to see the mainstays through the eyes of my ever-changing, growing children, for whom everything is new. And I also appreciate the vision of people like Jim Baron who work hard to keep things at the fair fresh and interesting and keep me and my daughter dreaming all winter long.
Northwest Washington Fair
1775 Front Street in Lynden
www.nwwafair.com
2017 Fair Hours, August 14-19
Gate Hours: 9:00 a.m. to 10:00 p.m.
Carnival Hours: 11:00 a.m. to 11:00 p.m.
Vendor Booths: open at 10:00 a.m.
Gate Admission Prices
Adult (13-61 years): $13.00
Senior (62+ years): $11.00
Youth (6-12 years): $8.00
Children 5 and Under: Free
Carnival Prices
Carnival Wristband: $33.00
Sponsored