Bellingham lifestyle photographer Katheryn Moran has been taking pictures since she was gifted her first camera when she was five years old. Originally from the Seattle area, Moran's parents presented her with her first nice camera when she was a freshman in college at Western Washington University. She started surprising friends with impromptu photo shoots when they would get together, practicing posing and lighting

Moran taught preschool while she studied Human Services and Psychology at WWU. "I really like that age group," she shared. "It was the perfect fit for me at the time, having a balance of playing with kids all day and going to school. Eventually, I started taking my camera to work and I convinced my boss at the time to let me start a blog for the school." Moran's blog idea was a big hit. Parents loved seeing photos of their kids and sharing them with others. Her work as an Early Childhood Educator eventually brought her to Portland but when her job at a preschool fell through she took a position as a receptionist at a recruitment company.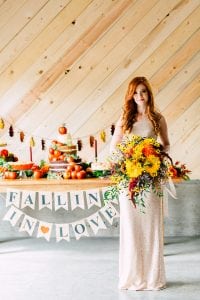 "It was a great way for me to be around people all day," she shared. "I love to be in the middle of everything." At work Moran had the opportunity to meet people from all around the country but once she was home she made good use of her bright, Portland apartment as a makeshift photo studio. After a year and a half in Portland, Moran moved back to Bellingham and started her photography business.
"I jumped in with both feet," she explained. She booked her first wedding through Craigslist and with the support of her now-husband, Charles, was able to book 18 weddings that first year in business. While she worked other jobs on the side when she first started her business, she's been working for herself full-time since 2015. "The opportunities that I've gotten here have been really cool," Moran said.
Some of those opportunities have come from Moran's strategic use of styled shoots. Styled shoots are planned photo sessions that center on a theme or inspiration. Often collaborative, these shoots tend to feature many different vendors. If you've ever been on Pinterest or spent any time perusing photographers' blogs, there's a good chance you've come into contact with plenty of beautiful styled shoot photos.
Moran has been organizing these shoots locally since she moved back to Bellingham. For her, styled shoots are an opportunity to test ideas and work with other people. "I think there are two approaches to styled shoots," Moran said. "When I first got going, I wanted to make connections. Honestly, I wanted to make friends! But I also wanted to try different things and see what fit with me, what I like and find my style."
Styled shoots can be a long process, especially when the photographer is the one organizing it. "In my experience, it's not typically the photographer who does all the coordination," said Moran. "I really like to be in control of those details because I have a vision but it's good to get other people involved and get their vision. But if I do all the planning and do the shoot, and then the editing and the submitting, it ends up being a six to eight month process."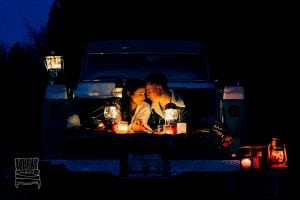 Moran approaches other businesses with her vision and is clear about what benefits they'll receive for participating. Some people use styled shoots to flesh out their own portfolio but Moran wants to help build-up the other vendors, from venue to baker.
"I think styled shoots for businesses are the best kinds of styled shoots," she shared. Moran has done 12 styled shoots over the past four years and she's found that the photos prove their own value. "Businesses have a hard time understanding how powerful photos really are until they see people interacting with them online."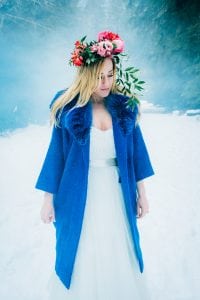 All the participating vendors get access to a selection of photos after a styled shoot and agree to tag each participating business whenever they share it online. The result is a flurry of beautiful photos that help promote many local makers. "It's obviously powerful," Moran explained.
You can see more of Katheryn Moran Photography's styled shoots on her blog, or follow her on Instagram to keep up with her new projects.
Vendors, Snowy Winter Styled Shoot: Katheryn Moran Photography, Pozie by Natalie (flowers), Ashley Lee Beauty (make-up), Frankie & Maude (dress), Megan Lee Designs (jewelry), Noteworthy Ink (invitations), The Silvery Moon (wedding ring), Rustic Event Rentals (event rentals), MOMAD Productions (event planning), and Paulina Antczak-Bevens (model).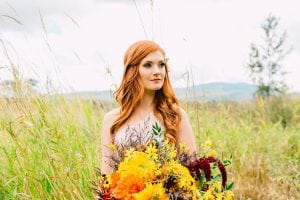 Vendors, Elegant Apple Styled Shoot: Katheryn Moran Photography, Pozie by Natalie (flowers), Anderson Acres (venue), BelleWood Acres (apples), Belle Bridal (dress), Megan Lee Designs (jewelry), Noteworthy Ink (invitations), The Silvery Moon (wedding ring), Rustic Event Rentals (event rentals), Slice of Heaven Custom Baked Goodies (dessert), Crochet by Chrisdee (crochet bunting), Sarah Rydman (nails), Kelsie Ardvison (lashes), Elizabeth Marie Makeup (make-up) and Brooklyn Matthysse (model).
Vendors, Star Gazing Proposal Shoot: Katheryn Moran Photography, Wander Event Rentals (event rentals), MOMAD Productions (coordinator), BIJA Chocolates (chocolate), Sophie's Goldmine (ring), Penny Lane Antique Mall (antiques, lanterns), and Sarah Rorvig and Spencer Klvegaard (models).