Submitted by: Whatcom Dispute Resolution Center
The 15th Annual Bellingham Bay Bocce Tournament, hosted by Boccemon and benefitting the Whatcom Dispute Resolution Center (WDRC), was Saturday, May 6. Thirty-two teams of four, including many local favorites, competed in the largest bocce tournament in the Northwest.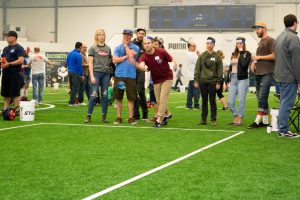 Smith & Just, PS, a public accounting firm from Seattle took this year's championship. After a heated championship game, 2nd place went to the Bocce Dawgs of Seattle and 3rd place went to Island Movers of Eastsound.
Spectators cheered on their favorite teams while enjoying this annual celebration. Festivities included: a salmon BBQ lunch donated by The Black Cat, a Boundary Bay beer garden and raffles. Kids enjoyed a bounce castle, activities and face painting.
This successful event raised over $11,000 for the WDRC, a nonprofit serving Whatcom County with a mission of: Providing and promoting constructive and collaborative approaches to conflict through mediation, training, facilitation and community education.
The tournament was started by the McNutt family and made possible by generous sponsors, local donors and dedicated volunteers. The WDRC is grateful to tournament host and title sponsor Tom and Erin McNutt of Boccemon; gold sponsors: Boundary Bay Brewery and The Black Cat; and silver sponsors: Robey Namba PS Personal Injury & Disability Law, Buri Funston Mumford, and Barkley Co.
Plans are in the works for the 16th Annual Bellingham Bay Bocce Tournament in spring 2018. WDRC Development & Outreach Coordinator, Iris Maute-Gibson stated "The tournament is selling out earlier each year as more and more people get the bocce bug. Sponsorship will open in January of 2018 and we encourage those interested to get on board right away." Those interested in sponsoring a team or playing in the tournament can contact the WDRC at outreach@whatcomdrc.org.