Every family needs a break from cooking at home from time to time, but the next challenge is often deciding on what restaurant to visit. Luckily there are a lot of delectable options around town that offer good food at reasonable prices and support our community to boot! So put your worries at ease and choose from one of these neighborhood gems the next time your crew starts looping the seemingly endless "Where do you want to go?" – "I don't know, where do you want to go?" discussion. Keep your kids, your belly and your wallet happy at one of these locally owned restaurants in Bellingham, Ferndale or Lynden.
Kick off your weekend with breakfast at Fiamma Burger and they'll throw in free pancakes for the kids. Yes, that's right—This is the sweet little restaurant down on Railroad where you can get great kid deals and amazing shakes for lunch and dinner. They do breakfast, too, from 7 a.m. – 11 a.m. every day. May through September you can bring your kids in on the weekend for free pancakes with the purchase of an adult entrée. The entrées are pretty amazing and reasonably priced themselves, starting at just $6.50 for the Biscuits & Gravy or the JoJo Breakfast Poutine. Done and done.
And speaking of amazing breakfast deals, the Daisy Cafe serves it up hot and fresh every day from 7 a.m. to 2:30 p.m. Anyone can order from the "For the Kids" or "Kids at Heart" section of the menu which holds tried-and-true family favorite The Ol'e Twosie. It really packs a punch with two generous pieces of their famous cinnamon orange French toast, one egg (prepared as you like) and your choice of meat. Opt for a booth in the lovely and bright front room or head to the back indoor patio where the kids can visit the building's lobby fountain while you wait for your order.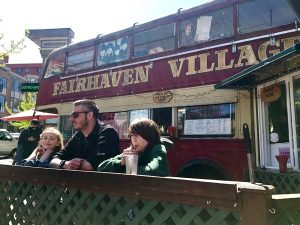 If you're looking for something a little fun and different, drop by Fairhaven Fish & Chips – a stationary "food truck" in the form of a red double-decker bus right at the heart of the Fairhaven historic district. The affordable kid's meal option includes a choice of cod, salmon or chicken; fries; a drink; and a small ice cream cone. If the weather's nice, grab a table or counter seat right by the bus. Or take your haul to the Fairhaven Green for a picnic. If it's not so nice out, you can enjoy your meal inside the sweet little enclosed gazebo.
For those looking for a good burger, there's no experience quite like Ferndale's Good Burger housed in a World War II era steel Quonset hut. As its entertaining commercial proclaims, "It's called Good Burger because it's a darn good burger." Ground fresh every day, it certainly is one of the best in Whatcom County. The rest of the menu is just as enjoyable with a variety of options like fish, chicken, tacos and even chili. It's always a bonus when the "kids" menu is open to all ages and, at Good Burger, the Little Eagle Meals offer a smaller portion with fries and a drink and can be ordered by anyone looking for slightly lighter fare.
Following in a Cornish tradition handed down for generations, Good to Go Meat Pies in Lynden specializes in tasty meat (and one veggie!) pies made fresh daily. Working with a long list of nearby farms and suppliers, Good to Go Meat Pies uses local ingredients as often as possible. Their passion and dedication pay off in an array of wholesome and delicious food, including made-from-scratch soups and desserts. According to Bellingham resident Molly Porter, this is a place people will go out of the way for. "Every time I'm anywhere in the vicinity of Good to Go Meat Pies, I make sure to get there," Porter says. Families love having the choice to order meat pies hot, chilled or frozen, and the size of the pasties is big enough for kids to split (or for Mom and Dad to save half for lunch the next day).
Happy Hour may not always bring to mind family-fun time, especially when it's at the home of the original Big Mama margarita, but Sunday's all day Happy Hour at local favorite Jalapeños is perfect for the kids. Any place that supplies chips and salsa to munch on while waiting for the food to be prepared gets big bonus points with most families. When the sun is shining you can sit at the outdoor seating found at all three locations—Downtown, Fairhaven and Barkley—or there's plenty of room inside to keep your crew comfortable. Order up a few of everyone's favorite appetizers—tacos, nachos, quesadillas, poppers—and enjoy!
No matter where you choose to take your crew, one thing is for certain – everyone will have fun bonding and making memories as you eat out together.