In July 2010, Greg Baker took on the role of Superintendent of the Bellingham School District. Since then he has worked diligently to promote equality for Bellingham students and keep the public schools running at a high level.
Baker first considered becoming a Superintendent when he was first starting as a teacher in Alaska. His Assistant Principal told him, "Someday you're going to be a Superintendent." This comment would prove to be the beginning of a long journey.
Baker spent some time teaching in Alaska before going to work in the Spokane Public Schools. There he worked with struggling students. He also helped design a school, similar to Bellingham's Options High School, which gave students an opportunity to learn in a different environment than the traditional high school setting.
Following his time in Spokane, Baker attended an Urban Superintendents Program at Harvard University. When his program finished, he moved back to the Pacific Northwest to work in the Portland Public Schools. By the time he left Portland to come to Bellingham, he was the Portland School District's Deputy Superintendent.
One of Baker's first projects as Superintendent was writing the Bellingham Promise. According to Baker, the promise outlines what the community expects the school district to do, "on behalf of the kids." It lists nine beliefs that the school district holds and 16 characteristics that the school district hopes to develop in its students. The Promise was created through a collaboration between staff, students and parents in the Bellingham Public Schools. It especially emphasizes the development of well-rounded children, equality for all students and teamwork in achieving these goals.
In his everyday work, Baker constantly looks at the Bellingham Promise and asks himself how he can deliver upon it. When he is deciding whether or not to implement a proposed idea, one of the main factors he takes into account is whether it fits within the Bellingham Promise.
One of the most widespread of Baker's projects so far is Project Free Education. The project aims to reduce extra financial burdens placed on families in Bellingham Public Schools. "We're trying to do everything we can so you shouldn't be getting a letter home every week saying, 'You need to give more money to this teacher for this art class,'" Baker explains.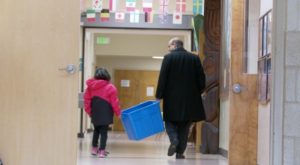 The school district has put in a large effort to reduce extra costs to families. When Project Free Education was launched in 2011, very few school supplies were provided to students. By the 2016-2017 school year, school supply lists had been completely eliminated. The school district now provides students with all of the supplies that they will need. In addition, fees for AP testing, calculators and instrument rentals have been greatly reduced, and athletic fees have been eliminated completely. Baker modestly admits that they have not figured it all out yet. However, Project Free Education is constantly growing, and it has already made a profound impact on the families aided by its efforts. It has also helped put all students on equal footing.
"Every student that goes to our school district should have the opportunity to achieve at high levels," Baker says. "And it shouldn't matter what neighborhood you live in, what school you go to, how much money your parents have, whether you have a disability, what language you speak. So my number one goal is to make sure that all kids have equal opportunity to achieve."
His viewpoint is reflected in the school district's One Schoolhouse strategy. Baker describes this strategy as the feeling that everyone in the district takes care of each other. No one school or student is left behind to struggle.
Part of this approach means making sure that all of the schools in the district have good facilities, from the sports fields to the buildings. Lowell Elementary School, Birchwood Elementary School and Sehome High School are among the schools that have become focuses for renovation recently. Baker hopes to continue to update the school facilities in the coming years.
In the future, Baker also plans to implement the 1:1 Initiative, which will provide all students and staff with a computer to use for school-related work. Additionally, he hopes to get better at working closely with community partners to help provide students with access to food, clothes, counseling and whatever else they need.
"I don't get to decide everything but I get to influence and I love trying to figure out how we do something that we haven't done before that will help a student to be successful," Baker says when asked about his favorite part of his job. Since he became the Superintendent of the Bellingham School District, he has done an excellent job of doing just that.