When he was in 10th grade, Marcus Polous entered the world of DJ-ing. Now in his junior year at Sehome High School, Polous has already successfully organized and hosted his own event.
It all started when a friend introduced him to electronic music. "That's when I got into DJ culture," says Polous. "It seemed like a fun thing to do. I've always admired how they can control a crowd and put energy into a room."
Polous' interest took on a more active form when he applied for an Assistance League scholarship and his essay won him a trip to DJ camp. It was there that he learned the basics. Since then, Polous has been exploring new techniques and honing his music-mixing skills.
Early in his junior year, Polous was eager to test his DJ-ing abilities. He got the idea to host a school dance as a fundraiser for band tour. When he presented his idea to administration, it was shut down due to the school's strict fundraising regulations. "I went home that day and I didn't feel done," Polous recalls. "I thought, why not try and keep going?" And he did. Just a few months later, posters lined the hallways reading, "Animal Jam with DJ Polous: Dance the night away to support the Whatcom Humane Society."
Polous worked hard to prepare for his first public event as a DJ. "I went out of my way to get the right equipment," he says. However, there was only so much he could do to prepare. "I have to read off the crowd and improvise a little," he explains.
Polous was hoping to offer local high schoolers a fun and energetic night with a different feel than a typical school dance. "A lot of dances are just really high energy the whole time but I try to present a smooth flow from low to high energy," he says. Polous hoped that as a high schooler, he would have a better understanding of what kids wanted to hear than a typical DJ.
In the end, Polous was glad that his dance didn't take place at school. "It actually worked much better to do it privately," says Polous, of Animal Jam. "I was able to have much more freedom than I would have at school." The dance took place at the Bellingham Yacht Club and was open to all local high school students with ASB cards. "I thought this event would really bring together all the schools," says Polous. "If I had done it at Sehome, it would have been harder to have students from all over town."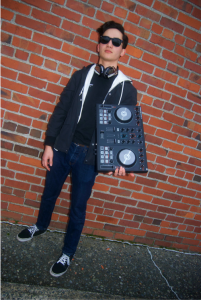 It was a success. By charging $5 at the door, over $500 was raised in one night to support the Whatcom Humane Society. "Everything went better than planned," says Polous. "I wasn't really expecting that many people or to make that much money."
Although Polous has no plans to become a full-time DJ, the success of this event gives him excitement for the future. "I can see this being my thing next year," he says. "Maybe I'll keep being able to do bigger and bigger events. If I get good, I can work part time doing weddings or something." The success of Animal Jam gave Polous new confidence in his abilities. He mentioned plans for another event as soon as this June. "I know I can do it now. I know it will work."